NeoTec Updates Cetone033…again
NeoTec, a German concern, has updated their Cetone033 – TB-303 emulator – to the next version. Actually, these guys post a new version every day so there's probably a new version right now. Cetone033 is a simple bassline synthesizer made especially for electronic music. It has two Oscillators with Saw, Pulse and Triangle waveforms, a Morph parameter controls either pulsewidth or Triangle-to-Saw morph value, two Envelopes with attack and decay times from zero up to one second, and a Resonant Biquad 12db and Moog-like filter that seems to change in the updates from 12db to 24db whenever there's a full moon.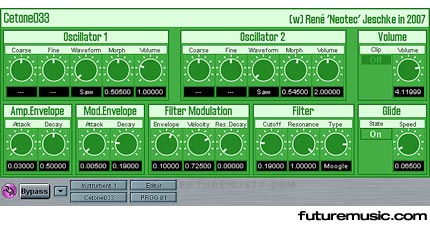 Here's the latest enhancements: (These will change)
• Added a slight volume damper at higher resonances
• Changed the clipping behavior
• Redesigned the filter (now standard Biquad IIR 24db resonant)
• Added 12 Presets
• Reduced CPU usage
• Bugfix: Filter cutoff was in the range [0->PI/2] but should be [0->PI[
• preset corrected (due to filter cutoff changes)
• Bugfix: Glide speed didn't work correctly on samplerate changes
• Res.Decay value increased
• Added filter type knob
You can download Cetone033 for free.