RØDE Announces Several New Innovative Microphones & Accessories
RØDE Microphones has announced several new microphone products.

The S2 is a live performance condenser vocal microphone designed to offer quality and performance of our RØDE S1 microphone. The S2 offers condenser sound quality and a feedback rejecting, narrow super cardioid pickup pattern. The S2 also features a locking ON/OFF switch.

The M3 condenser microphone was designed for the engineer on the move and offers a dual power option with either standard48V Phantom Power or a 9V battery. The M3 boasts a switchable High Pass Filter to remove unwanted low frequency rumble and two stage Pad for high sound level recordings. The M3 also features an ON/OFF switch and LED battery status indicator.

Well, we were almost correct about this one. The PROCASTER is a fully professional dynamic microphone specifically designed for voice applications in the broadcast environment. Ideal as the main mic for On-Air or production applications in commercial radio, the Procaster needs no external power and has an industry standard 3-Pin XLR output. An in-built wind screen and shock mount system make the Procaster the ultimate for all voice applications. Seamless integration was the idea, and it was obtained by creating a studio dynamic microphone with unparalleled A/D converters, so that the microphone can be plugged into any computer with no in/out boxes, no expensive computer pre-amps, just a USB cable.
The NT55 has the same sound quality, ease of use and reliability as the NT5 but with the added features of a two stage High Pass Filter and a two stage Pad. The NT55 kit includes a cardioid capsule as well as an omni capsule. An optional hypercardioid capsule will be available soon. The NT55 utilises the 1/2" (externally biased) gold sputtered true condenser transducer used in the internationally renowned RØDE NT5. The NT55, is a state-of-the-art low noise balanced output microphone, exhibiting a wide dynamic range and full frequency response. The NT55 circuit incorporates a 3-position variable pad: 0, -10 or 20dB attenuation, and a 3 -position variable high-pass filter that enables you to step from a flat response to 75 or 150 Hz high pass filter. The NT55 is now available as a matched pair and ships in a hard plastic case with stand mounts and wind shields.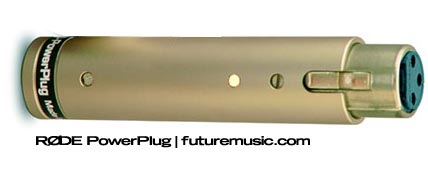 The D-Power Plug is a microphone body with a pre-amplifier which turbo-charges your Shure SM58 or SM57 when used with long (or regular) cables. Features an instrumentation grade pre-amplifier circuit, D-PowerPlug will turn any standard dynamic microphone into a high level electronically balanced output device. Using conventional microphones with long multi-core cables results in a dramatic loss of signal strength, and of course sound quality due to cable resistance and capacitance. Powered by standard P48 V, D-PowerPlug can drive cables in excess of 100 m with negligible loss of signal quality or power.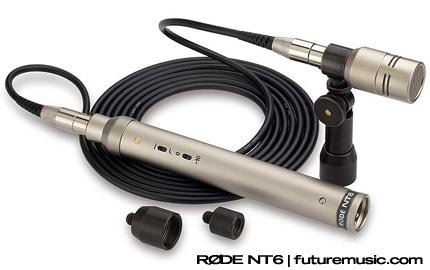 The RØDE NT6 is specifically designed for difficult mounting applications. Although clearly relevant to instrument mic'ing, the new NT6 is extremely well suited to any situation where a small unobtrusive but powerful microphone system is required. The NT6 utilises the 1/2″ (externally biased) gold sputtered true condenser transducer used in the internationally renowned RØDE NT5. The capsule is designed to attach to a custom made, multi-position swivel mount allowing it to be independently positioned with ease.
The PSA1 Studio Arm allows you to professionally secure your microphone. It has two mounting options – you may either use the desk mount clamp or the desk insert. The PSA1 Studio Arm holds up to 2Kg, is spring loaded and features a 2-axis swivel mount for accurate mic positioning.
The DS1 Desk Stand is ideal for mounting the mic on a desk while only taking up a small amount of space. It features variable height adjustment from 280mm(11") to 400mm (15-2/3") and has a heavy stable base. The DS1 also comes supplied with two clips for mic cable securing as well as a 3/8" and 5/8" thread adaptor.
More information on RØDE's new products.