Dave Smith & Roger Linn Use NAMM To Test BoomChik Analog Drum Machine Concept
One of the more interesting "vaporware" items we noticed at the NAMM show was a new Synth/Drum Machine hybrid, dubbed the BoomChik. This new instrument only lived in the imaginations of visitors to Dave Smith Instruments booth at NAMM via a large rendition on a poster.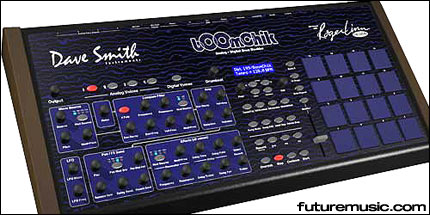 Now we always stop by DSI when at NAMM for two reasons. First, Dave Smith (the mind behind Sequential Circuits), is one of the nicest guys in the gear biz, and second, his synths are just amazing. So when we saw the BoomChik poster with not just one legendary innovator, but also Roger Linn, (inventor of the first sampling drum machine and the Akai MPC60 and MPC3000), we took notice.
The instrument, which you can see from the above picture, looks like Dave's brilliant sounding Evolver with Roger's MPC action in one unit. It was described to us as an analog drum machine without any more details.
Several industry people thought the whole thing was a put-on by the two legends, but that's really not their style. Roger Linn reportedly had a non-compete agreement with Akai in place after they parted ways, and that's why he went down the processing path instead of coming out with his own version of the MPC. However, that non-compete may have expired and that's why he and his buddy Dave decided to mock up the BoomChik and gauge response at the show.
For us, an analog drum machine from these two master-minds, would certainly be "cool," but we don't think it would sell big unless it had a lot more features. And attributes that are aimed squarely at the MPC market — hip-hop producers. Even the esteemed MPC line is losing some of its luster with the hip-hop crowd as they become more sophisticated and savvy in their producing, and other options like Roland's updated MV-8800 come into play. Hip-hop producers still have to have the MPC-3000 in their studios, but it's either for show or as initial idea generators, or as a means to get some no-talent rapper's hands off of their console.
Even if they do decide to just go ahead with the purely analog drum machine concept, how much are they going to sell it for? Not many are going to touch this thing if it's much over a grand. In today's market, its just too one dimensional. Price it at $999 or less and they'll get some market play, but only if it sounds amazing. However, the "sounds amazing" part shouldn't be too hard for these two.
Not to take anything away from Dave Smith, but the biggest takeaway from this is that Roger Linn is publicly thinking aloud about a new drum machine. And that's a very good thing…