Novuzeit Unleashes Sizzle Spine – Distortion Step Sequencer
Novuzeit has released Sizzle Spine, a distortion processor/step-sequencer. Sizzle Spine – clearly one of the worst product names ever – which gives us an idea for this month's Futuremusic Direct newsletter contest… – claims to allow subtle-to-extreme destruction effects. The programs power is its ability to change the distortions in realtime by step-sequencing columns of various sound decimating effects.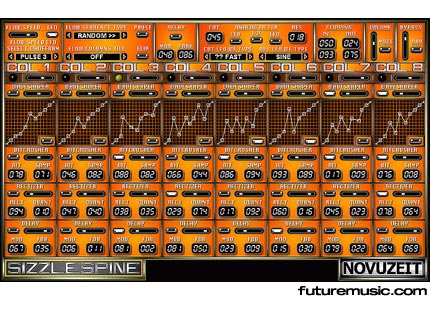 Sizzle Spine works by taking a series of distortion effects and stacks them into eight columns. Next, Sizzle Spine sequences the incoming source material through each of these columns one at a time using its proprietary "FLOW" sequencing technology. By using FLOW you can step-sequence the columns one at a time, in any sort of sequencing style: straight, alternating, skipping, reverse, random, and several other options.
FLOW has all sorts of unique sequencing abilities, including the ability to drive the sequence timing based on an LFO for extreme time variations. Or, if you wish, turn FLOW off, and just use one column at a time. The step-sequencer speed can be controlled manually or synced via MIDI. The distortions included are Waveshapers, Bitcrushers, Rectizers, (now we're getting nasty –Ed.) which is some kind of weird quantization distortion for "severe audio marauding" and Delays with timing offsets ranging from comb-filter like bursts to dub-style echoes. You can also add Global effects to the output of Sizzle Spine including a LFO-driven Analog Filter.
Sizzle Spine is available as a VST effect plug-in for Windows and costs $19.95. The full version includes 50 presets and a user's manual. More information on Novuzeit Sizzle Spine.