Korg Announces Zero4 & Zero8 DJ Mixers
Korg has announced the Zero4 and Zero8 DJ mixers. Its official, the sleeping giant has finally awoken — electronic musicians will especially be pleased by the dance-oriented M3 and now, the new Zero line of mixers.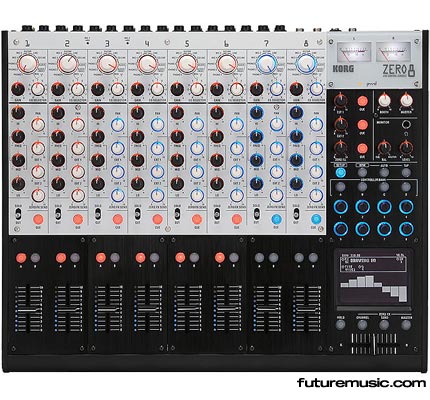 The Zero is an all-in-one "core stations" designed for live performance artists, remix producers, and serious computer musicians providing a digital mixer, audio I/O, MIDI controller, and effect processor all in a single unit. Each channel can be switched between sources such as a turntable, CD player, microphone, computer, instrument, MIDI controller, or MIDI controller + audio to implement a sophisticated live mixing setup with the simplicity of a FireWire connection. This gives you an incredibly powerful and flexible tool designed specifically for live performance and remix production.
Korg has somewhat botched the introduction of the Zero mixers with a convoluted press release and unknowledgeable NAMM employees who mostly shrugged when asked specific questions — no real surprise. Two models are available: Zero4 is a four-channel version designed for the needs of the modern DJ, and Zero8 is an eight-channel version covering the needs of advanced laptop musicians, studio remixers and DJs requiring more channels.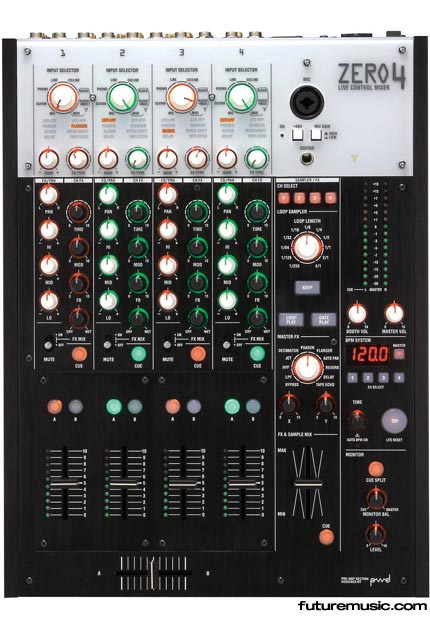 The Zero mixers support 24-bit 48 kHz resolution audio as standard, and can support up to 24-bit 192 kHz. Along with the digital domain, analog components such as the input/output circuitry and power supply have been designed with painstaking attention to high-quality sound. The mic preamps are an ultra-low impedance design by Peter Watts, a veteran designer of numerous professional mixers throughout his tenure at the Trident Corporation in the UK and as chief designer and vice president for product development at Mackie Designs in the USA.
The EQ Selector is a completely new concept, providing an EQ section with eleven different simulation types. They cover needs ranging from corrective equalization to boldly creative sound-shaping, giving you a variety of EQ responses and curves, filter characteristics, and even isolator modeling that can be switched independently for each channel as needed. It includes emulations of various EQ characteristics from famous mixers, isolator functionality, and can even act as a filter. This is offered globally on the 4-channel Zero4, and available per channel on the 8-channel Zero8.
The Zero contains a FireWire interface that lets you process and mix audio sources digitally, at the same time as performing MIDI control. Thus, the Zero houses everything in one unit: audio interface, mixer, effect processor, and MIDI controller, so the necessity of dragging multiple devices to a gig is a thing of the past, not to mention, set-up is a breeze.
Each channel on the Zero4 has a dedicated Insert effect (8 types). In addition, there's a Master effect and a BPM-based loop sampler (one-shot mode also provided). The Zero8 offers three effects processors, Insert (8 types), Send and Master (11 types each), all controlled via a Touch-display screen with KAOSS-style real-time manipulation. The built-in effects on each channel including a Phaser, LFO LPF/HPF, Slicers, Flanger, Pitch Shifter, Tape Echo and Delay. The Master Out includes Decimator, Phaser, Flanger, Auto Pan, Reverb, Delay, Tape Echo, Jet and LPF & HPF filters.
The Matrix Input Selector enables each channel to be instantly switched between a variety of sources (turntable, CD, mic, audio from a computer, guitar), to act as a MIDI control surface, or as a combination MIDI controller + audio channel. All controller knobs feature two-color illumination that indicates whether the controller is processing analog or digital audio/MIDI, for precise control on stage or in dim lighting.
A FireWire connection lets users process or mix audio sources from a PC in the digital domain, as well as transmit MIDI, all on a single cable. In FireWire audio + MIDI mode, a single channel can be used for audio processing such as EQ and level at the same time it's being used for MIDI control.
As a control surface, the Zero4 offers 32 knobs, four switches, 12 buttons and four sliders. The Zero8 offers 64 knobs, 8 encoders, four switches, six buttons and eight sliders. Dedicated "ZERO Edit" software lets users freely assign MIDI messages to the faders, knobs, incremental/push encoders, buttons, toggle switches and X-Y pads. Any one of the Zero's controls can be assigned to any MIDI controller, so you can control any DJ software program with the Zero.
The Korg Zero4 and Zero8 Mixers will be available in May 2007. No pricing has been announced. More information on the Korg Zero4 and Zero8 DJ Mixers.