IK Multimedia Announces AmpliTube 2 Jimi Hendrix Edition
IK Multimedia has announced an exciting new version of their AmpliTube 2 plug-in, which received a 100% PowerRating in our TestDrive review. The new Jimi Hendrix Edition is the first authentic software recreation of the Jimi's complete rig and includes models of extremely rare and collectible vintage stomp boxes, amp heads and cabinets.

Frankly, the concept of creating a special Guitarist-specific edition of their fabulous guitar plug-in suite is a brilliant idea. Kudos to the IK marketing and development team for this obvious slam-dunk! Not only does this concept extend the life-span of the Amplitube product, but giving a guitarist the ability to dial-in a guitar hero's sound will have a significant impact at the cash register. We couldn't have thought of anyone better to kick off the series than Hendrix. From his distinctive sound, to the possibility of custom psychedelic graphics, this is one savvy launch.
AmpliTube 2 Jimi Hendrix Edition is a cooperative effort between Authentic Hendrix and IK Multimedia. Authentic Hendrix was founded in the late 1990s by Al Hendrix and his daughter, Janie, to curate and promote Jimi's extensive recorded legacy. AmpliTube 2 Jimi Hendrix Edition is the first guitar amp and effects modeling software focusing on Jimi Hendrix and can be used not only to recreate the authentic tones of popular Hendrix tunes, but since the modeled gear in this product is in such high demand by guitarists, AmpliTube 2 Jimi Hendrix Edition is a fantastic tool for many styles of modern rock music from hard rock to punk, alternative, progressive and pop.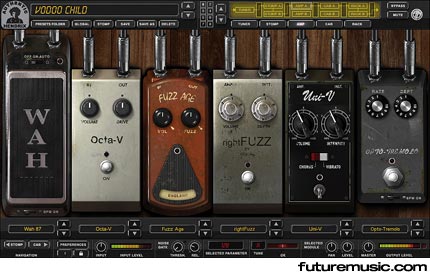 AmpliTube 2 Jimi Hendrix Edition features 9 vintage stomp effects, 4 vintage amp models, and 7 cabinets, putting the sound of extremely expensive and hard to find gear at your fingertips. Also included are 4 rack effects (Rotary Speaker, Stereo Reverb, Parametric EQ, and Tube Compressor), increasing the tonal flexibility of the product and allowing you to sculpt the sound even further. The exciting news for thousands of AmpliTube 2 users is that the Jimi Hendrix Edition can also expand the available stomps, amps and cabinets inside AmpliTube 2! By integrating the two products you can double the amount of vintage stomp box models inside your AmpliTube 2 rig and add some of the collectible amps and cabinets that guitarists crave the most. Whether you want to get that classic Jimi Hendrix tone or treat yourself to the most desirable collection of vintage effects and amp gear ever offered in software, the AmpliTube 2 Jimi Hendrix Edition is the ultimate add on to AmpliTube 2!
Features:
• 5 modules including tuner, stomp pedal board, amp head, cabinet+mic and rack effects on 2 series parallel
• 9 Vintage Stomp Effects models
• 4 Vintage Amp models
• 7 Vintage Cabinet models
• 5 Microphone models
• 4 Rack Effects models
• Available as a standalone application and VST, RTAS, AU plug-ins for Mac OS X and Windows
AmpliTube 2 Jimi Hendrix Edition costs $249 / €199 and will be available sometime during the first quarter of 2007. AmpliTube 2 users will be able to upgrade to the Jimi Hendrix edition at a special reduced price of $199 / €169. There will also be a StealthPlug AmpliTube 2 Jimi Hendrix Edition, combining the software with our 1/4" to USB audio interface cable for immediate plug-n-play in any Mac or PC for $299 / €249 . More information on the AmpliTube 2 Jimi Hendrix Edition.