Waldorf Returns From The Dead – Premiers 6 New/Updated Products
Waldorf is officially back! The German concern has long been reported to be stirring from their self-inflicted coma, but they have come roaring down the hill from Castle Frankenstein to drop a boatload of new products at this years NAMM show.
Alex Hartmann designed the new Waldorf synths and it pays off big for the company. The new Waldorf's have a modern, sleek design and a weighty, substantial look. A limited edition of the Q Micro and Q & Q+ synths (see below) will sport the gorgeous "Phoenix Trim."

The Micro Q
The microQ's synthesis architecture and sound comes directly from the Waldorf Q Synthesizer and was packed into an nice 2U rack housing. The microQ is easy to program with its editing matrix. This allows you to edit nearly most of the sound engine parameters directly on the surface of this little beast without being in need of activating menus.

The Q & Q+
The Waldorf Q+ is a 16 part multi timbral virtual analog synthesizer with up to 100 voices, 16 discrete analog resonating 24 or 12 db per octave 4-pole cascade lowpass filter circuitry modules with self oscillation and analog distortion. There are up to 100 voices which offer 3 LFOs, 3 oscillators with all classic shapes plus wavetables, 2 filters with a sophisticated routing method and all filter types that you expect from a Waldorf synthesizer.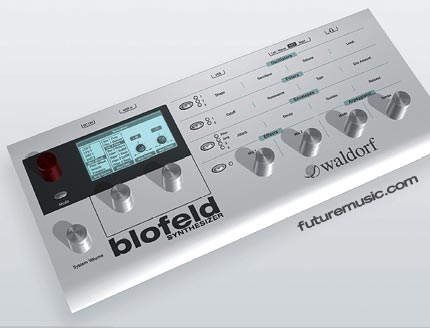 The Blofeld
Featuring the next-generation of Waldorf virtual analog modeling technology, aluminum knobs and chassis and 1000 pre-loaded quality sounds, this (James Bond?) inspired synth aims to take Waldorf firmly into the next millennium.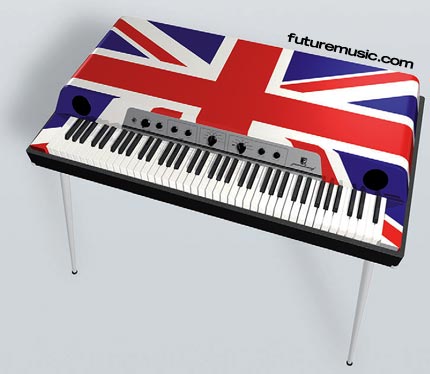 Zarenbourg
Features physical modeled emulations of five classic electric pianos with effects, 76 real wood keys and a top-drawer speaker system.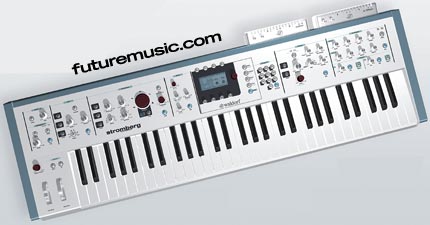 Stromberg
A new analog modeling keyboard featuring wavetable oscillators, two-way filter multimode system, several filter types including PPG, Comb and Cascade filters, up to 100 voices, and a modular filter bank. With the Stromberg you can "plug-in" an A-Filter (16-way filter bank) or the Valve (a real tube module that generates a warm aftereffect to any patch or the outputs). The three stereo outputs can be configured for 5.1 surround sound with the built-in effects (phaser, chorus, flanger, distortion, delay, reverb and a couple of others).
No pricing or availablity have been announced at this time, which means this could all be vaporware (note: all images above are computer generated). More information on the new Waldorf Synths.