Stanton Introduces FinalScratch OPEN
Stanton has announced FinalScratch OPEN, their open-ended solution for digital DJing. After Stanton was dumped by Native Instruments, Stanton had to come up with a solution to take their FinalScratch solution into the future without completely alienating their fervent consumer base. Stanton has responded by offing DJs the ability to use any of the leading DJ software, including Traktor, with their Scratch AMP. The question is, will Stanton's new philosophy be enough to compete with M-Audio's Torq System with the sexy new Xponent Conroller and, more importantly, Native Instruments' new Audio8 DJ.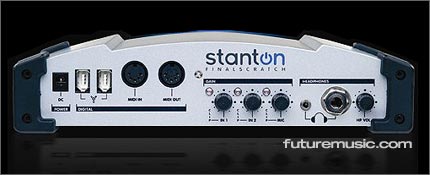 The FinalScratch Open Scratch Amp is a low latency FireWire 96k / 24 bit audio interface that is compatible for use with a variety of software applications, making it an ideal solution for programs that do not currently ship with a sound card, such as MixVibes, Deckadance, Ableton Live, Traktor DJ Studio, PCDJ, and the like, and providing the connections needed from turntables, cd players, and microphones. The Scratch Amp also provides the output connections to the DJ mixer and headphones for sending audio out of the computer. In addition to this, MIDI is implemented on the Scratch Amp so users can now connect external control surfaces and audio devices to their DJ software application. Because the Scratch Amp is an ASIO / WDM device on Windows and is a class compliant CoreAudio device on the MacOS, it can work with virtually every audio application on the planet.
The Stanton Scratch Amp is a powerful sound card tailored towards the inputs and outputs that a performing DJ would require when using software. Traditional non pro-audio applications will work with the WDM driver and CoreAudio compliancy, allowing programs such as iTunes, Windows Media Player, WinAmp, PowerDVD and games to utilize the Scratch Amp. The Asio and CoreAudio compatibility ensure that pro-audio applications such as Cubase, Project 5, Ableton Live, FL Studio, Reason and others will run flawlessly with a sound card.
Stanton has now opened the Final Scratch format, allowing all software companies big and small to take advantage of time code support. The company believes that by providing this technology free of charge to developers, as well as linking its use with the ScratchAmp, FinalScratch users will now enjoy an unbelievable new realm of possibility. FinalScratch OPEN now has the potential to become a cross software standard for vinyl control.
Existing FinalScratch Users: Over the coming year Stanton will unfold a digital product strategy that gives DJs the tools needed to reach unmatched performance levels, allowing them to take full advantage of the digital DJ technology that the company pioneered with FinalScratch. The first step in this strategy is FinalScratch OPEN, and the good news for existing FS DJs is that they do not have to make an additional hardware purchase – they already own the acclaimed Stanton ScratchAmp. FinalScratch OPEN also gives FinalScratch DJs the ability to purchase an additional ScratchAmp at a reduced cost to use for back-up or club installation. The options have now been expanded, and as Stanton continues to move forward with developers, users will begin to experience a new level of FinalScratch potential that was never before possible.
More information on FinalScratch OPEN.