Roland Officially Announces The V-Synth GT
We told you so…
Roland has officially announced the V-Synth GT today at NAMM. The new "V" is a stellar upgrade to the very underrated original and boosts a ton of great new features.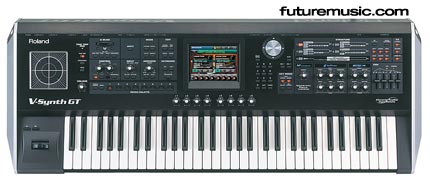 Features:
• Dual core V-Synth engine
• New AP (Articulative Phrase) SYNTHESIS technology models the performance behavior and nuance of musical instruments
• Includes Roland's proprietary Elastic Audio Synthesis engine plus Vocal Designer, playable simultaneously
• Sound Shaper II offers incredibly easy and efficient user programming
• Color touch-screen display with wide viewing angle
By integrating a new dual core V-Synth engine, the V-Synth GT can combine Elastic Audio Synthesis, Vocal Designer technology, and AP-Synthesis in real time. Roland's proprietary VariPhrase technology is also integrated into the V-Synth GT. Together with its analog-modeling engine, External Audio input, and digital sampling architecture, the V-Synth GT provides an incredibly wide and colorful foundation on which to capture, manipulate, and create sounds.
The V-Synth GT is the first synthesizer in the world equipped with AP (Articulative Phrase) Synthesis. This revolutionary form of modeling recreates the ever-changing behavior, nuance, and sound of an instrument as it's being played. The results are stunningly expressive and realistic, and can be applied to acoustic instrument simulation as well as new, never-before-heard sounds.
Serious sound designers will love the complexity and editing depth the V-Synth GT, but there are many instances where musicians need fresh sounds fast — and that's the beauty of Sound Shaper II. Based on the original Sound Shaper, this enhanced mode lets you chose a sound type, then it brings the most relevant parameters directly to the surface.
More information on the new Roland V-Synth GT.