Numark Announces Total Control USB/MIDI Controller
Numark has announced their new Total Control USB/MIDI DJ controller. Total Control is a tabletop controller for DJs that features 31 buttons, 20 knobs and 5 faders send MIDI data from the controller to your DJ software of choice. No assignment of software parameters for the Total Control is necessary – simply connect the controller to a computer with a USB cable, enable it on the user's computer's "config" menu, and watch the virtual controls respond to Total Control's actions.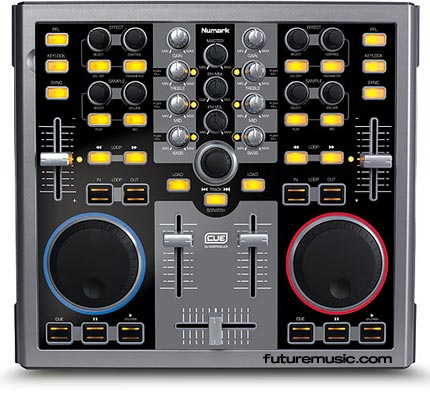 The Total Control comes packaged with Numark's Cue LE and Native Instruments' Traktor LE software, with pre–mapped controls and overlay "skins" for both applications. Looks like Numark did some good R&D on the ergonomics of this puppy, with carefully laid out controls and tactile jog wheels.
Features:
• 20 knobs, 5 faders, 31 buttons all send MIDI data
• Cue LE and Traktor LE included with controls pre–mapped
• Easy to learn mixer / CD player layout
• USB bus powered (no adapter needed)
• Kensington security slot to prevent theft
• Cue and Traktor controller overlays included to help identify controls
• Blank overlay included on reverse for custom mapping
• Mac OSX and Windows XP class–compliant / No driver needed
More information on the Numark Total Control USB/MIDI DJ Controller.