Native Instruments Releases Traktor Scratch/Audio 8 DJ
Native Instruments has finally unveiled their anticipated "DJ System" – Traktor Scratch/Audio 8 DJ – to the public. NI primed the hype engine by sending out sneak shots of the Audio 8 DJ interface, but left it up to the imaginations of public who was waiting to see, with bated breath, what NI's answer would be to Stanton's FinalScratch.
After leaving Stanton at the alter, with a full congregation waiting no less, Native Instruments decided to go their own route. And why not? They've been just killing it lately in both software and hardware development. So why be shackled by a company who's biggest innovation in the last few years has been to make all their products look like iPods??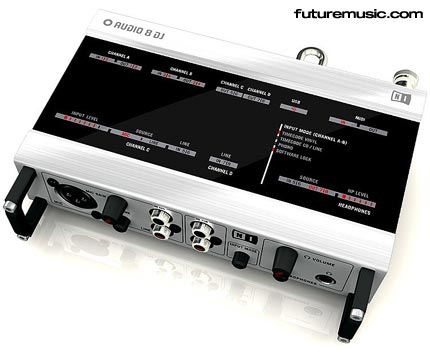 The Audio 8 DJ combines high-end audio quality with open-ended connectivity and a road-worthy mobile design. Let's be clear about this, NI's Audio 8 DJ, while specifically designed for Traktor, can be used with most other DJ software. This pits Audio 8 DJ squarely against Stanton's new FinalScratch OPEN. NI's performance-optimized USB 2.0 audio interface, with its flexible 8-in/8-out configuration, two studio-grade phono preamps, extremely low latency, and a compact and highly robust aluminium casing, is now attempting to leap-frog the digital DJ industry with a DJ System that meets the demands of today's laptop DJ, CD DJ and vinyl DJ.
Native's strategy is two-fold. First they have to win the hearts of Traktor users, and then other DJs who mix digital files. Second, they want to become the defacto digital interface in clubs around the world. NI knows only too well that their long-term success lies in the club environment. That's why you'll see that ditty mentioned again and again in their promotions. Like Technics and Pioneer before them with their 1200 and CDJ-1000 products respectively, it is mandatory that NI gets the the Audio 8 DJ fully integrated into the name-brand club systems on the planet. Look for these types of announcements over the next year.
Stanton definitely has a head start, and many of the larger venues already have Stanton's Scratch AMP installed in their systems. However, the majority of the digital DJ aficionados all use Rane's Serato Scratch Live. Why? That's easy. Serato's Graphical User Interface (GUI) just rocks – their side-by-side waveform, visual mixing metaphor, and simple design is functional and DJ savvy. The reason I bring this up is because if NI hopes to jump the industry in a single bound with their Audio 8 DJ, then they have to pay attention to this detail when they release the next version of Traktor. As good as Traktor is right now, the interface is still rather dense. If they truly hope to "own the vertical" of a compete "DJ system," then re-thinking their GUI certainly should be near the top of their "To Do" list.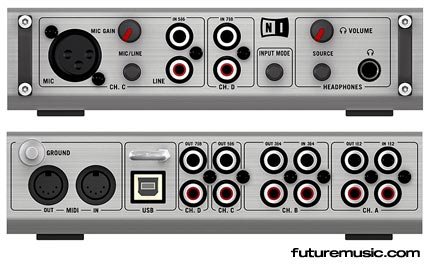 So let's get back to business…
The Audio 8 DJ audio interface offers four stereo inputs, two of which are equipped with software-switchable high-quality phono preamps, making it possible to incorporate nearly any combination of turntables, CD players, drum machines and other instruments into one powerful setup. The interface also provides four stereo outputs, which ideally complement the four full-featured playback decks in Traktor 3 when using the software with an external mixer. All audio connections are in RCA format to allow for easy connection with turntables, CD players and DJ mixers.
Audio 8 DJ features a microphone input for voice-overs, a ground point for turntables, and a MIDI I/O to synchronize external MIDI gear and connect performance controller hardware. Status LEDs on the interface provide an instant overview about input levels and other vital system parameters, while several safeguard features prevent potential operating errors or accidents
from interrupting a performance. Audio 8 DJ is completely bus-powered, making a cumbersome AC adapter unnecessary.
The interface is equipped with studio-quality 24-bit/96 kHz audio converters from Cirrus Logic that provide crystal-clear treble and rich bass response. Audio 8 DJ utilizes Native Instruments' fourth-generation audio driver technology with low-latency operation down to less than 4ms, which enables the high degree of precision and responsiveness that professional DJ performances rely on.
Audio 8 DJ ships with Traktor 3 LE, a compact version of Native Instruments' Traktor software that offers two decks with high-quality time-stretching, an integrated mixer, performance effects, loop and cueing functions, a powerful track database and Beatport integration. The Audio 8 DJ interface is also the centerpiece of Native Instruments' new timecode-controlled Traktor Scratch DJ system, which is a Audio 8 DJ with time-coded vinyl and CDs, a pair of innovative "Instant Connect" multi-core cables and a special version of Traktor.
Features:
• Professional 96 kHz, 24 Bit Audio Interface. High-quality Cirrus Logic AD/DA converters
• Aluminium cased, super-robust, mobile design specifically for DJs
• 4 hi-gain stereo outputs (RCA)
• 4 stereo inputs (RCA), 2 optional phono preamps with high impedance input mode
• 1 alternative microphone input with input gain control and input level meter (XLR)
• Headphone output with visual level control
• Low latency ASIO / CORE Audio / DirectSound driver
• MIDI Interface: 1 Input, 1 Output
• Computer Connection: USB 2.0, Bus-Powered
• Dimensions: 45mm x 174mm x 103mm (141mm overall) (HxWxD)
• Weight: 825g
• Over 20 individual channel Status LEDs for instant status monitoring and signal chain error detection
• Compatible with any digital to analog DJ set up, such as Traktor 3
• Includes full version of Traktor 3LE with intergrated Beatport music store access
The Audio 8 DJ will be available in March/April from $449 / €399 at your local corner dealer or from NI's Online Shop. Traktor Scratch will be available in April/May 2007 for a suggested retail price of $669 / €599. More information about Native Instruments Audio 8 DJ.