IK Multimedia Announces Shipping Date For StompIO
IK Multimedia has announced that the AmpliTube 2 StompIO, the company's second hardware product, is expected to ship during the second quarter of 2007. The StompIO is a new USB floor controller and audio interface for the AmpliTube 2, guitar and FX modeling software.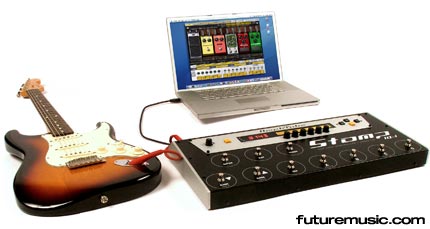 Combined with a Mac or PC, StompIO empowers the modeling processor market with some of the best sounds available from a guitar effect unit, the staggering power of PC-based DSP modeling, 20,000 amp combinations, 32 effects on 2 rigs and all of these parameters controlled with exactly the same feeling as a traditional guitar floor processor.
AmpliTube 2 and StompIO together form a complete hardware/software guitar processing solution. No other hardware unit can benefit from the huge processing power of the modern CPU of today's Mac and PC computer systems. This translates into better sounds and more powerful features. This advanced software/hardware system gives you direct access to thousands of instantly playable presets for a monstrous sound set-up while taking advantage of software updates and enhancements for an ever-growing system that has no equal in the guitar processing market.
Easy to use, with 4,000 presets ready to go, and can be played live or fully integrated with your preferred sequencer. Multiple preset switching modes are offered to suit your needs and create settings to your taste with an unlimited number of preset sequences. The possibility to reconfigure extremely complex rigs with just one click allows you to dramatically change sound during performances like no other traditional rig. Plus, the StompIO can be perfectly integrated within your preferred sequencer in your studio allowing you to fully control AmpliTube while recording entire guitar tracks with full automation, on the fly. Interact like you would with a traditional hardware rig, but with the advantage of non-destructive recording and full editing.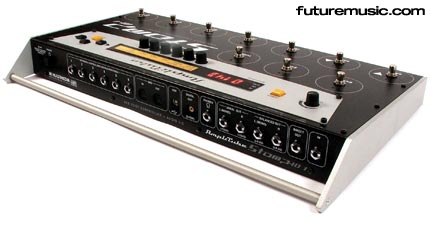 High-end features for the most demanding guitar professional: 10 floor switches, 7 knobs, 2 large displays, up to 6 configurable external controllers, MIDI IN/OUT, hi-quality direct IN, USB, SPDIF, balanced/unbalanced stereo OUT and more, all in a rugged metal construction with a cable safety handle. StompIO also includes lightning fast drivers with latency, tailored for the most demanding live virtuoso performance.
Powered by AmpliTube 2, which we gave a 100% PowerRating, the guitar amp and fx modeling program that offers accurate recreations of popular hardware. It has more than 20,000 amp combinations and emulations of over 80 different pieces of guitar gear. You can control 2 complete rigs and insert up to 20 effects from over 32 different stomp and rack effects. Completely craft 2 individual amps with a selection of amp heads and separate preamps, EQs, and power amp models as well as cabinets and modeled microphones making it a complete setup for getting the best guitar sounds.
StompIO Features:
• Controls:
•• 4 digit large LED display
•• 40×2 character large alphanumeric backlit display
•• Volume knob
•• 3 LED levels
•• 4 navigation buttons
•• Instant Tuner recall button
•• 6 knobs with rotary encoders
•• 10 floor switches
•• Ability to connect 6 external controllers, with pedal/switch connections
• Connections:
•• Ultra-low latency USB
•• High Quality Direct Guitar IN
•• Direct OUT
•• Low-level STEREO OUT
•• Balanced STEREO OUT
•• Digital SPDIF OUT
•• Headphones OUT
•• MIDI IN/OUT
•• 6 external controller, pedal/switch
• Audio:
•• 24 bit A/D- D/A with High end stages
•• 44.1 or 48 kHz operation
•• >102 dB SNR
•• >100 dB dynamic range
•• Class A discrete input preamp
•• High performance analog circuitry
•• True +4dBu balanced outputs
AmpliTube StompIO will be available during the second quarter 2007 from IK Multimedia and its distributor/dealer network worldwide. No pricing information has been announced. More information on the AmpliTube StompIO.