Arturia Unleashes The Jupiter-8V
Arturia has unleashed the Jupiter-8V, a software recreation of Roland's legendary Jupiter-8. The Jupiter-8 offered a dynamic synth sound and was in production from 1981 to 1984.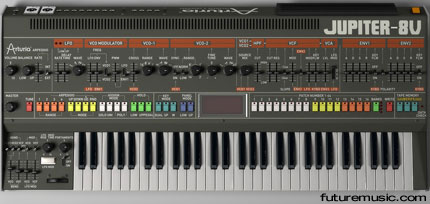 With the Jupiter-8V Arturia brings this magic back. Based on the latest version of Arturia's proprietary technology for analog emulation, the Jupiter-8V offers a new generation of features: The integration of effects within the synthesis line; Galaxy, a graphical tool made to modulate two LFO's at the same time; and with the modulation sequencer you can create new evolving sounds.
The Jupiter-8V is loaded with more than 400 presets made by a selection of top musicians. Fully compatible with the main protocols and systems in the industry, it can be used as stand-alone software or as a virtual instrument.
Features:
• Up to 32 voices of polyphony, and a Unison mode
• A unique audio structure featuring 2 oscillators per voice, 2 LFO's, 2 filters and 2 envelopes
• Keyboard split and layer
• A set of Analog and Digital Effects available within the synthesis line: Bit Crusher, Chorus, Distortion, Param EQ, Phaser, Ring Mod
• 2 Output Digital Effects: Chorus, Delay and Phaser
• Additional Live-oriented Step-sequencer, additional Galaxy module for advanced modulations
• New Preset Manager
Arturia's Jupiter-8V will be available in March 2007 for $249 / €199. More information on the Arturia Jupiter-8V.