Allen & Heath Announces Xone:2D
Allen & Heath has announced the Xone:2D, a scaled-down, and more affordable version of their ground-breaking Xone:3D analog/digital DJ mixer and MIDI controller. The 2D just contains the soundcard/MIDI controller components and is designed to augment a traditional DJ mixer. And from the looks of it, it looks like a winner to us.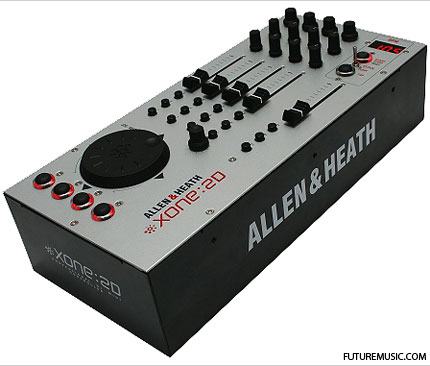 The Xone:2D is the combination of a 4 stereo channel digital DJ mixer with a built-in USB soundcard and MIDI controller. The 2D enables DJs to integrate DJ software such as Ableton Live and Traktor DJ Studio into their existing rigs.
The high quality USB soundcard can operate in either of two modes – stereo channels for 3 inputs from a PC and 1 return, or 2 channels from a PC and 2 returns. A plethora of connections are provided to enable easy integration into any DJ set-up, and the 2D can be directly connected to turntables, CD players or linked to an external mixer. Digital IO (optical and coaxial) is also provided. Sweet!
One of the best features from the Xone:3D is also included, the BPM counter with LED display. The BPM counter is capable of detecting the beat on the analog input, and then syncing it to the MIDI clock generator, which can then control the tempo on your DJ software. But A&H didn't stop there. The also included the awesome MIDI clock nudge facility of the 3D, so you can push/pull the tempo of your software if it should start to go off the rails.
The MIDI controller connects via USB to a computer and also has 5-pin DIN MIDI sockets for connection to any MIDI-enabled device, and features 5 60mm linear faders, 8 detented rotary pots, 19 push buttons – 4 of which are illuminated, 5 rotary encoders with "push to switch" function, and a multi-function jog wheel with switched navigation control. All the MIDI controls can be mapped for use as navigation controls for DJ or production software.
Optional attachment brackets to mechanically link the Xone:2D to other mixers in the A&H range, and overlays relating to various software programs including Ableton Live 6 and Traktor DJ Studio 3, are available.
The Future: As this NAMM becomes the Year Of The DJ Controller for many concerns, the competition just keeps heating up. Although we knew a more affordable 3D would show up, we had no idea that A&H would include many of the powerful features from the high-water mark of DJ mixer/controllers, the Xone:3D. With A&H expanding their vertical, will Native Instruments, M-Audio and Ecler's new DJ products make it a race, or has A&H extended their lead. We'll know soon enough…
The Xone:2D will be available in Europe during March 2007 for £499 (ex VAT). More information on the Allen & Heath Xone:2D.