The Sound Guy has updated SFX Machine Pro to version 1.1
The Sound Guy has updated SFX Machine Pro to version 1.1. Streamlined for use in audio production environments, SFX Machine has been used to do sound design for radio production, TV shows, feature films, CDs and video games. While SFX Machine Pro has an unparalleled collection of effects, from the conventional to the bizarre, it also serves in everyday use as a "swiss army knife" of audio utilities. SFX Machine Pro provides full MIDI parameter control for automated preset modification, using a simple 'MIDI Learn' system. This allows a wide range of interaction; for example, filter sweeps can be controlled by your sequencer. Any number of sliders can be automated simultaneously.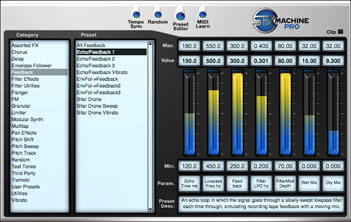 Enhancements:
• Set latency value correctly
• Added an extra programmable slider to the main screen
• Provided separate Wet Mix and Dry Mix controls for most presets
• Added 3 new presets: Mono Unlike Stereo, EnvFol->Pitch Shift, and Feedback Eliminator
• Fixed a bug which caused the preset Editor controls to superimpose over the main screen
• Fixed invisible parameter numbers in the Preset Editor (VST version)
• Added additional VST 2.4 support
• Fixed potential crash bugs
SFX Machine Pro is available now for US $149.99, the update is free. More information on SFX Machine Pro.