SM Audio Announces The Nano Patch – Passive Volume Attenuator
SM Audio has announced the Nano Patch, a compact desktop sized passive volume attenuator. Building on the success of the original M-Patch and M-Patch 2 passive attenuators, the new Nano Patch enters the market as one of the smallest passive problem solvers on the market.
A great way to passively attenuate stereo signals from soundcards, CD players, pre-amps, and mixers, the Nano Patch is designed to allow precise level adjustments to analog audio source material. Featuring balanced combo XLR/TRS input jacks and TRS outputs, mute switch, and a good sized rotary volume encoder, the Nano Patch is simply one of the most affordable improvements you could ever make to your studio.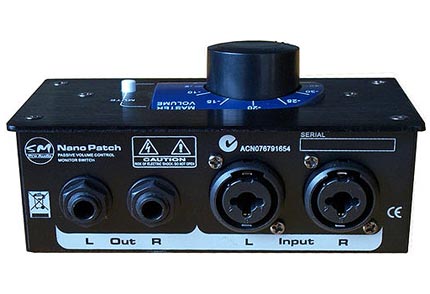 The Nano Patch really comes into its own when connected between your computer audio interface/soundcard master outputs and a pair of active (powered) monitor speakers. One of the benefits of passive volume attenuation is that you no longer have to control volumes with your software's master volume fader. Reducing levels from your software only reduces the audio bit depth. It is much more appropriate to keep your software masters at unity and attenuate the audio to your active monitors with a passive controller like the Nano Patch. This way you can maintain maximum audio resolution and attenuate your monitoring volume with the confidence that the sonic integrity of your audio is not compromised.
No active circuitry, buffers, transistors, batteries, or power supply of any kind can interfere with the main passive output of the Nano Patch. It simply delivers attenuated signal. Pure, simple transparent. The Nano Patch's rotary control allows precise level adjustments within 1dB from 0 to -40dB. In addition, the Nano Patch features completely balanced operation with its combo XLR/TRS input jacks, and TRS outputs.
The SM Audio Nano Patch will be available in the second quarter of 2007; no pricing information is available at this time. More information on the SM Audio Nano Patch.