PSP Audioware Releases VintageWarmer 2
PSP Audioware has released an upgrade to PSP VintageWarmer. The PSP VintageWarmer 2 plug-in is a high-quality digital simulation of an analog-style, a single or multi-band compressor/limiter. It combines rich, warm analog processing with a straightforward user interface, and comes with a comprehensive library of presets.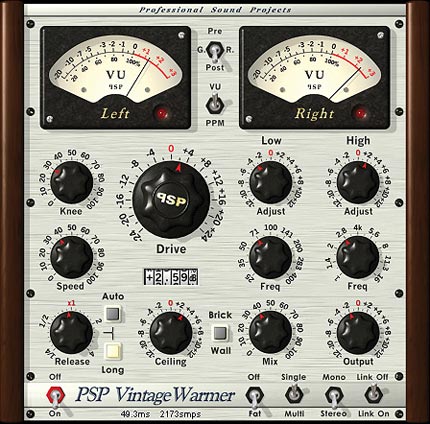 The plug-in processor is highly flexible and can be used for both softknee compression and brick-wall limiting. This makes it an essential tool for mixing and mastering engineers. Careful attention has been paid to PSP Vintage Warmer's overload characteristics with the processor being capable of generating saturation effects typical of analog tape recorders. PSP Vintage Warmer also incorporates professional VU and PPM metering together with accurate overload indicators thereby assuring professional quality results.
Enhancements:
• FAT (Frequency Authentication Technique) – PSP's quality double-sampled processing
• Disengageable brick-wall limiting
• Two Release Multiplier ranges for fast or relaxed processing
• Semi-automated release mode
• Extended band saturation levels and band release multipliers for MultiBand mode
• 64-bit host<>plug-in audio streaming support in VST version
• Platform-independent preset management system
PSP VintageWarmer 2 is available for both Mac OSX and Windows for $149. The OSX version is Universal Binary so the plug-in can now be used on both PowerPC and new Intel-based Macintosh computers. AudioUnit, VST, RTAS for Mac OSX (Universal Binary); VST, DirectX, RTAS for Windows; VST, RTAS and MAS for Mac OS Classic. The owners of the PSP VintageWarmer can get the new plug-in at discounted price of $49. More information on PSP VintageWarmer 2.