Weekend Fun: The Sony Segway Skateboard
A patent document recently published by the U.S. Patent and Trademark Office, reveals a new personal transporter concept by Sony. The new device appears to be a cross between a Segway and a skateboard.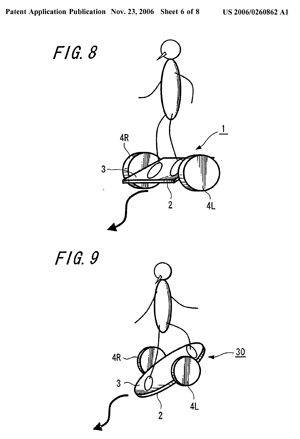 Sony's human mobility skateboard would work by using electric motors for power, and gyroscopes for controlling stability and balance. As you can see from the patent images above, it is so easy to use, even Pinocchio can do it! The patent doesn't give the Sony transporter a name. It is specified by the snappy moniker: "a vehicle steerable by movement of center of gravity" – catchy right??
Here's how the patent describes it…
The present invention relates to a vehicle which can travel in the front and back direction and which can turn by right and left wheels rotated when a rider riding on a step-board moves the position of rider's balance from the center of a vehicle base. A vehicle which can be steered based on movement of balance according to the present invention. According to the present invention, it is possible for the rider to run the vehicle in the front and back direction and to turn the vehicle in the left and right direction by only moving rider's weight.
A personal transporter product is certainly a departure for the electronics giant, but market in which they could possibly excel. With lackluster sales of the PlayStation3, we say bring on the SkateMan!