Roland To Introduce V-Synth GT At NAMM
Roland has been teasing the V-Synth Community with a Flash Movie to hype their new V-Synth. Now thanks to some savvy reverse engineering of the movie, several industrious Roland fans have been able to distill the images you see below.

However, Roland hasn't released any specs, which has led to wide-spread speculation on what the images actually translate into as far as new features. Thanks to our Japanese friends, we're now able to give you the lowdown. The V-Synth GT will indeed premier at NAMM with some exiting new modeling technology. The AP Synthesis will be incorporated into the synthesis chain, and show up in an enhanced Vocal Designer, which will be built-in (no card) and reportedly takes the whole Vocal Processing paradigm to the next level.

The other exciting spec is that the new V-Synth GT will feature Dual Core Technology. Dual Core is indeed dual processing in the form of two individual V-Synth engines in one keyboard! This is confirmed by the Upper Tone/Lower Tone screen shot below. Thus, you can stack two elastic V-Synths on top of each other for unprecedented sonic force.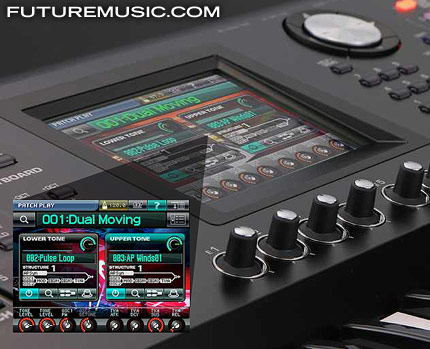 More information on the new Roland V-Synth GT.