Roland To Introduce MV-8800 At NAMM
Roland will introduce a new MV at this year's NAMM show. The new MV-8800 is a fully-blown out version of the original MV and will include a color screen, built-in graphics card, and a new larger, faster Hard Drive.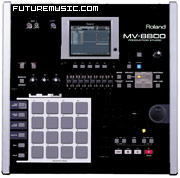 The MV-8800 doesn't appear to have any new, ground-breaking features like the Roland V-Synth GT, but it will come with new effects and loaded with quality samples. More information as it becomes available…we promise.