Source Audio Releases Hot Hand Wireless Adapter
Source Audio has released the Hot Hand Wireless Adapter. This new controller replaces the wired sensor and can be used with all Hot Hand Products. Developed by a team of wireless electronics specialists, the Hot Hand Wireless adapter features light weight, long battery life, and world-wide usage. The Hot Hand Wireless Adapter consists of a motion sensor ring unit, and a small receiver that plugs directly into the back of the Hot Hand Control Box.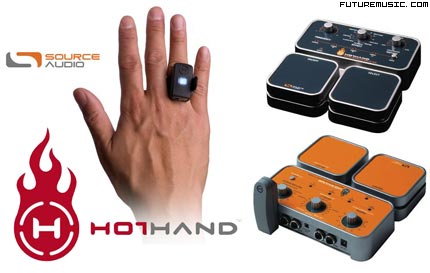 Features:
• Rechargeable Lithium Ion Battery
• Compatible with all Hot Hand products
• Licensed for world-wide wireless standards
• One plug connection to base unit. No other wires
• RF transmitter capable of transmitting over 100 feet
• Use up to 4 units on one stage at one time with no interference
Source Audio's Hot Hand Wireless Adapter will be available soon. No pricing information has been announced. More information on the Source Audio Hot Hand Wireless Adapter.