Motorola Unleashes The MotoMusic Experience With New MotoRIZR Z6 Music Slider
Motorola took the wraps off its new MotoMusic Experience. MotoMusic is a platform that features optimized music handsets, accessories, content and alliances. Motorola showcased three new devices, the MOTORIZR Z6, MOTOMING with EDGE, Bluetooth Active Headphones S9, and outlined partnerships with Warner Music Group and Microsoft.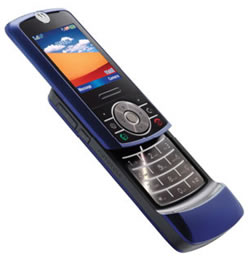 MotoMusic Devices
At the center of the MotoMusic Experience is the new MOTORIZR Z6 slider. The Linux-based MOTORIZR Z6 is compatible with Microsoft Windows Media Player subscription stores. It's easy to take music on the go – simply plug in and sync music. Synchronize individual songs or full playlists in seconds with high speed USB 2.0. Up to 2GB of removable microSD memory allows users to store all of their favorite songs, plus a 2-megapixel camera. Dedicated music keys make accessing and managing your library a cinch. Even listen wirelessly with Bluetooth Stereo technology.
MOTOMING with EDGE – This compact Linux-based device is a mobile communications and entertainment center for those who need to keep their work, life and entertainment organized and looking good. With the MOTOMING phone's large transparent window, RealPlayer media player with multiple audio file support, FM radio, unique play while closed capability, stereo Bluetooth wireless technology and up to 1GB of optional removable microSD memory – music lovers can get the music they want when they want it.
MotoMusic Partnerships
Warner Music Group – The first of multiple alliances expected to provide content for the MotoMusic Experience, Motorola and Warner Music Group will collaborate on the development of digital products, marketing campaigns and strategic planning across multiple devices. The alliance will feature a variety of artists and can offer fans exclusive, premium content such as full-length songs, ringtones, ringback tones, mobile music videos, wallpapers and more.
Microsoft Corp. – The Motorola and Microsoft music collaboration is making it easy for consumers to take music from their Windows-based PC and load it on their phone. Users will have an easy mobile music synching experience with Windows Media Player as well as access to content from more than 200 online music services from around the world.
MotoMusic Content
MOTO Experience Pack – One of the first mobile products expected to be offered as part of the Warner Music Group and Motorola alliance is the MOTO Experience Pack. The MOTO Experience Pack is a single file downloaded to the mobile device that contains several-music based products creating a feature-rich multimedia artist experience on the handset. MOTO Experience Packs will be available in the second half of 2007.
MotoMusic Accessories
Motorola Bluetooth Active Headphones S9 – Leveraging Bluetooth Stereo technology, these new Bluetooth Active Headphones make it easy to enjoy the freedom of wireless music. With an easy-to-wear and stable behind-the-head design, the ultra-light (one ounce) S9 stereo headphones are comfortable and lets users listen to their favorite tunes and stay connected to a compatible Bluetooth enabled mobile phone.
The MOTORIZR Z6 will be available in the Spring of 2007. More information on the Motorola MotoMusic Experience.