Ion DJ Unveils iCue DJ Controller
Ion DJ has announced the iCue DJ controller. The iCue is a DJ workstation which allows you to mix audio files directly from your computer with built-in sampling, looping and effects processing. The iCue features the Cue DJ software and a dedicated controller, allowing you to scratch, control pitch and automatically beat match digital music. With the built-in recorder, you can record your mixes on the fly and burn them on CDs. The iCue also features video support so you can play, scratch and add effects to video files, making the iCUE an incredible multimedia mixing system.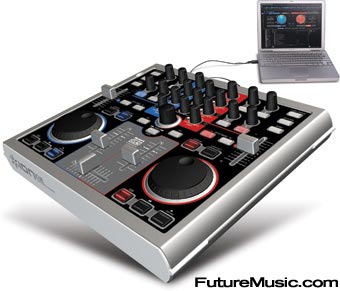 The Ion DJ iCue will cost $149 and be available mid year. More information on the Ion DJ iCue.