Audio Ease Releases Altiverb 6
Audio Ease has released Altiverb 6 featuring TDM and Intel Mac support. The most significant feature in this release is the support for Pro Tools TDM hardware on Mac OS X. For the first time Audio Ease's library of impulse responses becomes available to the Pro Tools HD|Accel chips. It is possible to generate stereo reverb from a single chip, and over 2 seconds of it. In addition Altiverb 6 can tie chips together to create up to 25 seconds of reverb.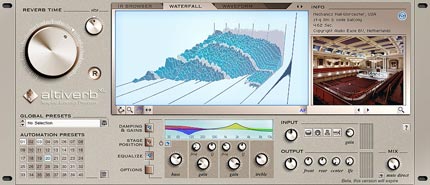 Altiverb 6 is the first Altiverb to run on Intel Macs, It features an improved user interface, an impulse response browser, adds 30 automation preset memories for total-recall and a wider set of automatable parameters than ever before. Altiverb 6 Regular is the stereo, fully automatable VST-RTAS-MAS and Audio unit reverb supporting up to 96 kHz sample rate. Altiverb 6 XL, the flagship product adds Pro Tools TDM support, surround output up to 5.1, and samplerates up to 384 kHz.
Altiverb 6 Regular MSRP retails for $595. Altiverb 6 XL MSRP is $995, and the upgrade from Altiverb 5 to Altiverb 6 regular is free, while the upgrade to XL costs $100 to $129 for existing Altiverb 5 HTDM users, depending on date of purchase, and if the Audio Ease guys like you. Altiverb is available on Mac OS X as Audio Unit, MAS VST RTAS Audio Suite and TDM and as RTAS and VST on Windows XP. More information on Audio Ease Altiverb 6.