Chestnut Hill Sound Announces George – Unique iPod Boombox
Chestnut Hill Sound Inc. (CHS) has announced George, the first digital audio system to combine an iPod music playback system, full feature wireless remote, AM/FM radio and alarm system in one product.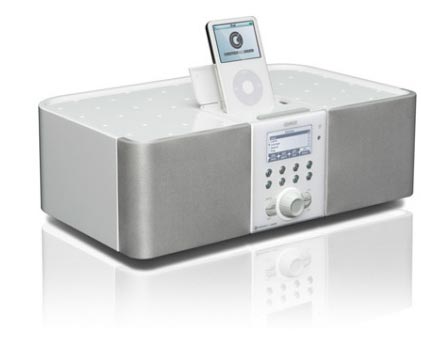 George fully extends the famed iPod navigation with the industry's only wireless remote that fully controls iPod functions. George includes an AM/FM radio that features the market's only patent pending Bandless tuner as well as a multi-alarm system. George offers consumers the first digital audio system architected for field upgrades for future digital audio sources. The company also announced its first module: a consumer-installable, no subscription HD radio tuner licensed form iBiquity which will be available in 2H 2007.
Chestnut Hill Sound developed George specifically to work with the iPod and it has been certified to meet Apple performance standards.
George is now available for $549 – ($599 with a remote charging stand). More information on George.