Gustavo Bravetti Announces pushandpull – Ableton Live Pitch Control For DJs
Gustavo Bravetti has released pushandpull, an extension for Ableton's Live that lets DJs control the program's tempo like a turntable's pitch control. It works by modifying Live's BPM in small steps (1/6 of BPM) without using hardware, just 4 keys from your PC's keyboard, or any MIDI controller with at least 4 programmable keys/buttons.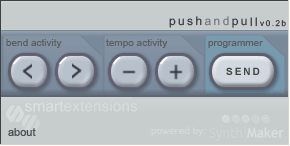 According to Bravetti, he developed pushandpull because he felt that Ableton's Live was lacking in true DJ pitch control. So he had to develop his own work around. "The way Live/VST deals internally with controller data, it isn't possible to control tempo in the way pushandpull does from a VST plug-in, that's why pushandpull is a stand alone application," Bravetti reveals on his website. "pushandpull, receives MIDI data generated on Live via external controllers or PC key strokes, and then transforms this data on "pitch bend" and BPM precise controller data, that are sent back to Live."
To interconnect Live and pushandpull a virtual midi port is needed, we recommend Midiyoke as the virtual MIDI port.
Bravetti's pushandpull is free. We have no idea if it works, so try at at your own risk. More information on pushandpull – Ableton Live Pitch Control.