RØDE To Unveil USB Version Of NT1-A Condenser Mic At NAMM
Touted as "the world's quietest studio condenser microphone." The classic RØDE NT1-A has only 5 dBA of self-noise. Now comes word that RØDE is set to introduce a USB version of the mic at the upcoming NAMM show.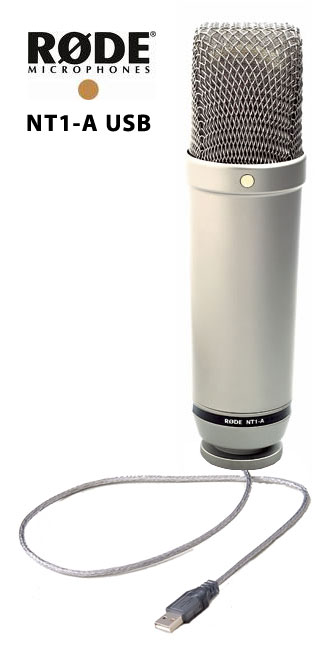 Details are sketchy, but it appears RØDE wants to capitalize on the USB Mic phenom by leverage the NT1-A's excellent reputation as one of the best "bangs for the buck" in the Microphone market.
Current NT1-A Specifications:
• Pickup Pattern: Cardioid
• Frequency Response: 20 Hz ~ 20 kHz
• Output Impedance: 100 ohms
• Power Requirements: Phantom P48, P24
• Acoustic Principle: Externally polarised 25 mm (1″) condenser
• Active Electronics: JFET impedance converter with bipolar output buffer
• Sensitivity: -31.9 dB re 1volt/pascal (25 mV @ 94 dB SPL) +/- 2 dB
• Equivalent Noise: 5 dBA SPL (per IEC651, IEC268-15)
• Maximum Output: + 13.7dBu (@ 1% THD into 1k ohms)
• Dynamic Range: 132 dB (per IEC651, IEC268-15)
• Maximum SPL: 137 dB (@ 1% THD into 1 K ohms)
• Signal/Noise: > 88 dB (1kHz rel 1 Pa; per IEC651, IEC268-15)
No availability or pricing has been revealed. More information on RØDE Microphones.