Walletex Wallet MP3 – A Credit Card Sized MP3 Player
In what could be the ultimate record label promotional or Gift-With-Purchase, Walletex has announced the development of the Wallet MP3 which they're touting as the "World's slimmest MP3 player." What makes it work so well for the corporate market is that it can be a MP3 player, a Flash drive and a billboard.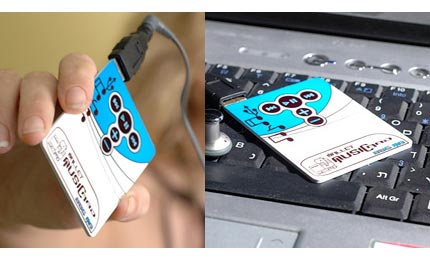 Walletex, whose first product, Wallet Flash 1.1, was recognized at last year's CES convention, is clearly the basis for the Wallet MP3.
Features:
• Fits into any wallet- so it will not get lost, forgotten or misplaced
• Water-proof, dust-proof, and temperature resistant
• Double sided USB connector with three-in-one functionality: USB communication, Charging, and Audio jack.
• First consumer electronic device users can customize with any graphics.
• Large double sided branding area for high quality printing: Corporate logo or music album artwork
• Retail-An ultra-portable gadget.
The Wallet MP3 is just slightly thicker than a credit card and includes a built-in, double-sided USB connector which is also used as the headphone jack with a small adapter. The player will be available in sizes ranging from 128MB to 2GB.
The Walletex Wallet MP3 will be available in early Summer 2007; no pricing has been released. More information on the Walletex Wallet MP3 Player.