Weekend Fun: Ravezooka – Music Weapon
Sonic Weapons have appeared in many science fiction tales over the years including Dune and Minority Report. However, none have actually come to fruition, in a convenient pocket model. And thus, my sonic battles with Evil will have to remain tethered to my Guiness fueled dreams.
However, a new "musical weapon" dubbed The Ravezooka has popped up online. According to their website, "it's a musical weapon that shoots a wide range of powerful hardcore sounds based on your target's distance from the instrument." I reviewed the small video clips and didn't come away impressed with the Ravezooka's power, but I still like the idea.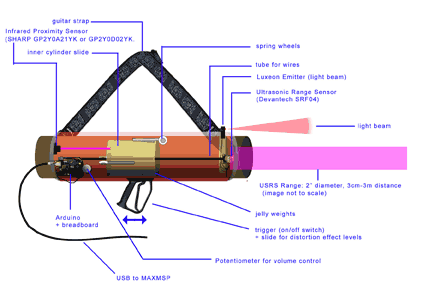 The sound emitted resembles an analog synthesizer manipulating sine wave frequencies with the aggressiveness of a machine gun. User controls include the range of frequencies (based on distance of target), distortion effects (based on handle slider position), volume control (potentiometer dial), and on/off (handle trigger switch).
A playful visual synthesis of a guitar and a bazooka, the Ravezooka is simultaneously a stylish musical weapon of audio destruction (although nothing is shown to be affected by the "weapon") that utilizes Max/MSP. The device was contructed using an Arduino, Ultrasonic Range Sensor, Infrared Proximity Sensor, Luxeon LED, and an amplifier. A laptop computer controls the "blast."
Using the Ravezooka is not a simple process. The user straps the Ravezooka over his or her shoulders and squeezes the trigger handle to initiate sound and a beam of light. As the user moves the Ravezooka around, he or she will notice a change in the frequency range being played based on the distance of the person or object in front of the instrument. The closer the target, the lower the frequency range. The light emitted from the Luxeon LED will give a rough visual clue as to what person or object is being targeted. The user will also be able to slide the trigger handle back and forth to initiate a change in the distortion effect of the sound. The closer the handle is drawn towards the user, the greater the distortion. The user will also be able to control is volume by turning the potentiometer knob on the side of the Ravezooka. If the trigger handle is not squeezed, no sound will be played.
The sound of the Ravezooka is generated by MIDI data collected from the sensors. Using MIDI as protocol, there are two channels being processed in MAXMSP. Channel 1 is linked to the data collected from the Ultrasonic Range Sensor and Channel 2 is linked to the data collected from the IR Proximity Sensor. Sound output will be played through a guitar or bass amplifier from the computer.
More information on the Ravezooka.