Skylife Unleashes WaveRobot – Loop Editing Software
Skylife has taken the wraps off of WaveRobot, the new stand-alone software solution for professional and comfortable audio loop editing. For the first time, WaveRobot combines all sophisticated loop editing features from SampleRobot in a single program.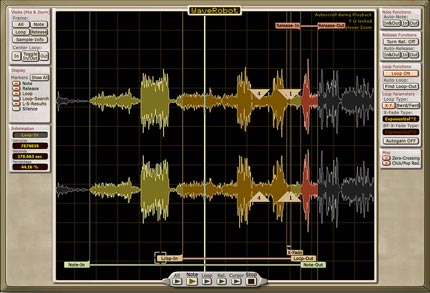 WaveRobot includes many automatic functions to detect good loop points in WAV files. A high speed graphic engine with full zoom functionality makes WaveRobot very usable. WaveRobot can be used independently or in conjunction with SampleRobot, which recently got updated to version 2.4. Furthermore WaveRobot is equipped with interesting audio editing functions like automatic silence truncating and crossfade rendering. Due to the reasonable price WaveRobot can be recommended as a universal audio tool for loop editing. It should be part of every studio's basic configuration.
Features:
• Professional Auto-Loop recognition and loop editing for wave files (incl. loop search and pattern markers for optimum results)
• Alternative Auto-Loop search results are directly accessible
• Tempo-based and beat-based loop marker editing
• Automatic functions for truncating silence at the beginning and at the end of the waveform
• Fully scalable and zoomable editor window
• Ultra-fast waveform zooming and marker editing (even during playback)
• Graphical overlay of stereo left and right waveforms in realtime possible
• Autogain crossfades for optimum crossfade loops without volume-change during crossfade
• Supports crossfade loops, forward-backward loops and combinations
• Intelligent zero-crossing functions
• WAV drag 'n' drop functionality
• Audio format: WAV up to 24 Bit, 192 kHz
• ASIO 2.1 and Windows WDM/MME compatible
• Crossfade rendering
• Loop/Crossfade/Release-Sample rendering
• Batch processing capabilities in conjunction with SampleRobot® Version 2 and SampleRobot Essentials
WaveRobot is available now and comes in several pricing scenarios: Downloadable stand-alone version: $55.78; Downloadable Cross-grade to SampleRobot Version 2.40: $273.22; Downloadable Cross-grade to SampleRobot Essentials + WaveRobot Version 2.40: $112.70 More information on WaveRobot.