Maycom Releases N>Trans PDA Audio Card
Maycom has released N>Trans, a brand new platform for digital audio recording on a PDA. N>Trans is a Compact Flash (CF) sized Audio Card for use in a PDA running Windows Pocket PC or a laptop PC running Windows XP/2000. It enables you to record broadcast quality audio in mono or stereo and then edit it straight away. And if your PDA or laptop is WiFi equipped you may even send (FTP) the interview directly to your station's server for immediate airing! Crazy!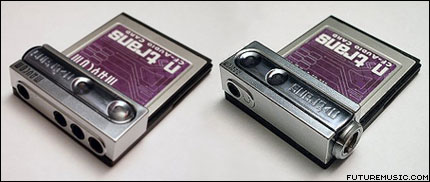 By using the N>Trans Audio Card together with a PDA or laptop the reporter is fully equipped to record and distribute broadcast quality audio as well as the many different kinds of textual and graphic content a PDA or laptop can deliver. Broadcasters these days not only transmit programming conventionally but also produce feature-rich websites that enhance – even substitutes in some cases – the regular broadcast schedule.
Maycom designed and now manufacture the N>Trans in their own factory, and can even provide a Software Development Kit (SDK) for third party software developers. N>Trans supports Windows Pocket PC and Windows XP/2000. Software developer, Technica del Arte, have already developed a recording, editing and communication program for N>Trans and it is called LUCI. The combination of N>Trans, a PDA or laptop and LUCI enables a reporter to make a recording (MP2 or WAV), edit the recording and send it to the studio using the WiFi communication features of the PDA (if present).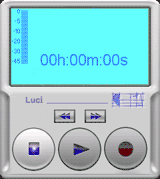 N>Trans comes in two versions: N>Trans and N>Trans-Pro. The difference between versions is in the types of connector and microphone power supply. N>Trans has 3.5 mm Mini-Jack connectors for Left (Balanced), Right (Balanced) and a stereo input (unbalanced with 3V microphone bias for electret microphone support). N>Trans-Pro has a single 5-pin LEMO connector wired for Left an Right balanced inputs. Both channels can supply a 48, 24 or 12V Phantom power.
Both Cards have a 24 bit 96kHz AD/DA converter onboard. The maximum conversion is that can be used is dictated by the software and the type of PDA or laptop being used. LUCI, for instance, is designed for Electronic News Gathering (ENG) applications and uses MPEG compression and linear WAV (max 16Bit / 48kHz).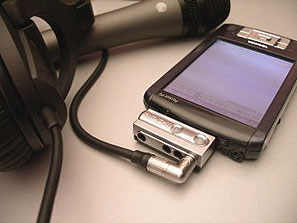 The audio front end of the N>Trans consists of two mic/line amplifiers, a -20dB mic attenuator, a limiter, automatic gain control (AGC), microphone power supply (mic-bias or phantom, depending on version) and a high power headphone amplifier.
N>Trans may be used with any PDA running Windows Pocket PC and equipped with a CF-card slot. There are several leading makes of these on the market. Recordings are made on the SD card in the PDA's SD card slot. N>Trans may also be used on a laptop running Windows XP/2000 and equipped with a PC-Card or Compact Flash (CF) card slot (if your laptop has a PC card slot, then you will require a PC-to-CF card adaptor).
Features:
• Professional Audio Card in Compact Flash for PDA or Laptop
• Runs on every PDA with pocket PC and a CF-Slot. (SD slot for storage recommended)
• Runs on every Laptop with a PC-Card or CF-Slot.
• 24-bit, 96kHz multi-bit delta sigma AD / DA converter
• Supports all major sample frequencies from 8kHz up to 96kHz
• High Quality Microphone Preamps with balanced inputs
• High Power Headphone Amplifier with zero latency monitor functions
• Wide gain adjustment range
• Phantom Power (12V, 24V or 48V) *
• Mic Bias Power (6V) for electret microphones **
• Limiter
• Automatic Gain Control with programmable level and timings
• Noise gate with programmable threshold
• Driver support for PocketPC and Windows Mobile 5.0
• Driver support for Windows 2000 and Windows XP
• Software Development Kit available
* Pro version only | ** Standard version only
Technical specifications:
• Frequency Response: 20 Hz – 20kHz, +/- 1 dB
• THD+N (BW 20 Hz – 20 kHz ):
MIC : 0.08% (balanced); 0.09% (unbalanced) (Input: -50dBu)
MIC-20: 0.03% (balanced); 0.03% (unbalanced) (Input: -30dBu)
LINE: 0.02% (balanced); 0.03% (unbalanced) (Input: +2 dBu)
• Dynamic Range (16-bit resolution, fs=48kHz):
MIC: 76dB (balanced) (Input: -36dBu)
MIC-20: 86dB (balanced) (Input: -16dBu)
LINE: 88dB (balanced) (input: +10dBu)
• Phantom power on balanced input (Pro version only): 12V, 24V or 48V through 6.8kOhm resistors, each balanced MIC input can supply up to 7 mA
• MIC-bias on unbalanced input (Standard version only): 6V through 2.2kOhm resistors, unbalanced input can supply 3mA
• A/D-D/A Converter: 24-bit, multi-bit delta sigma
• Supported Sample Rates: Record & Playback: 8,11.025, 12, 16, 22.050, 24, 32, 44.1, 48, 88.2, 96 kHz
• Interface:
2x 3.5mm female jack balanced mono input*
1x 3.5mm female jack unbalanced stereo input*
1x 5-pin heavy duty LEMO connector balanced stereo input**
1x 3.5mm female jack unbalanced stereo output
Compact Flash Type II – 5mm extended card
* Standard version only | ** Pro version only
The MayCom N>Trans + LUCI costs £299 and N>Trans-Pro + LUCI costs £329, or £239 and £269 without LUCI respectively. More information on the MayCom N>Trans PDA Audio Card and LUCI.