Image-Line Updates Toxic III To Version 1.4
Image-Line has updated their Toxic III virtual FM/Subtractive synth to version 1.4. Toxic III features a hybrid synthesis engine, combining the best qualities of FM and Subtractive synthesis with the addition of a warm, analog-modeled filter and set of built-in effects.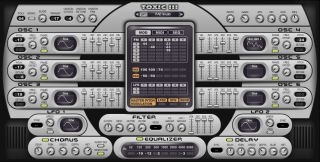 Enhancements:
• Banks are now saved in a compressed format, saving space
• Fixed denormals on some Intel systems
• Removed clicks in some hosts
• No more external wave files
• 36 new presets added
Image-Line's Toxic III 1.4 update is free, but the software must be registered again…beat. More information on the Image-Line Toxic III 1.4 update.