Expert Sleepers Drops Meringue 2.0 Plug-In (Universal Binary)
Expert Sleepers has released version 2.0 of Meringue, their twisted Delay Effect. Unlike most delays, the delay runs alternately forwards and backwards, rather than continually forwards. It has a filter/saturation section, which will be familiar to users of other Expert Sleepers plug-ins. The delay time and the filter LFO can be synced to the host application's tempo. The phase of the delay and the LFO can also be reset manually.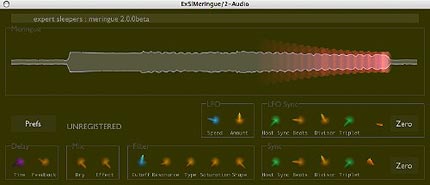 Expert Sleepers Meringue costs $19 (plus VAT if applicable) and is available in Audio Unit and VST formats (both Universal Binary) for Mac OS X. A fully functional demo version is available, but implodes after 15 minutes of use. However, simply reloading the plug-in resets the time-out. More information on the Expert Sleepers Meringue 2.0 delay plug-in.