Weekend Fun: iPod "Stimulator" – The iBuzz Two
Love Honey, a British mail order company, wants iPod users to not only "Share the music", but also to "Share the love". And the emphasis is clearly on love here with the debut of the iBuzz Two.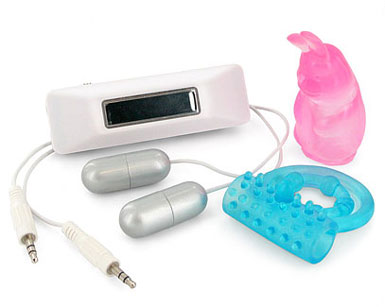 Love Honey claims that the iBuzz Two is the world's first music-activated "stimulator" for couples. Plug in two sets of headphones and you and your partner can simultaneously listen to your music and enjoy the sensations from two vibrating "devices." iBuzz Two gives you music-activated vibrations, 4 pulsing patterns and 11 speeds for pitch-perfect "excitement."
iBuzz Two Features:
• Small design
• Two stylish colours
• A brighter button
• Musical vibrations
• 11 vibrating speeds
• In Classic White and You Two Limited Edition black models
Apple is none too pleased with the iBuzz Two. In fact, they sent the manufacturer, Love Labs, a letter alleging copyright infringement of their distinctive iPod Ad Campaign images. Here's what the company's website had to say:
And so it proved last week when [Love Labs] received a letter from Field Fisher Waterhouse LLP in London, Barcelona, Dublin, Dusseldorf, Edinburgh, Essen, Frankfurt, Glasgow, Hamburg, Inverness, Madrid, Manchester, Mantova, Milan, Munich, Padova, Paris, Rome, Turin, Valencia, Verona, Vicenza and Vitoria.

Who the hell are Field Fisher Waterhouse? They are (one of) Apple Computer Inc ("Apple")'s lawyers, that's who. They represent Apple in intellectual property matters. And why did they have cause to write to me? Seemingly they had taken (or someone at Apple had told them to take) umbrage at iBuzz, the music-activated "stimulator" developed by Love Labs, a company in which I am a partner.

More specifically, they didn't like the iBuzz.co.uk Web site. More specifically still, they were objecting to the animation showing silhouettes of girls "pleasuring" themselves silly with white "stimulators."

In their letter, FFW (I haven't got the energy to keep typing their full name) says: "Our client owns the copyright in all the images used in its 'Silhouette' advertising campaign and actively polices its rights in order to protect itself and its consumers." They go on: "Certain images used on your website (www.ibuzz.co.uk) may have been copied or substantially copied from those in which our client own the copyright, without our client's consent…Your use of such images amounts to copyright infringement."

Crikey. That's a serious allegation. As FFW point out, their client "would be entitled to issue court proceedings against you seeking an injunction to prevent any further infringement of their rights and an award of damages or an account of profits and costs." Scary stuff.
Actually, the Love Labs Officer, who wrote this commentary, is not scared at all. His cheeky attitude (we removed most of his comments in parenthesis to make it more readable –Ed.) and the mere fact that he posted the letter on the front page of his web site translates into asking Apple to "go iBuzz themselves."
However, the company did rip off images from the very distinctive Apple iPod campaign. So Love Labs should just thank Apple for the wonderful publicity, and take the offending campaign down.
The iBuzz Two costs £34.99. More information on the iBuzz Two.