Native Instruments Updates Akoustik Piano To Version 1.1.1 (Universal Binary)
Native Instruments has updated Akoustik Piano to version 1.1.1. The new version brings Universal Binary support, allowing users of Intel-based Macintosh computers to utilize Akoustik Piano's multi-sampling and emulation of soundboard resonance and pedal behaviour on their machines. Akoustik Piano fuses the sampled sound, expressiveness and playability of three of the most reputable grand pianos – the Steinway D, Bechstein D 280 and Boesendorfer 290 Imperial – as well as the charismatic Steingraeber 130 vintage upright piano into one application.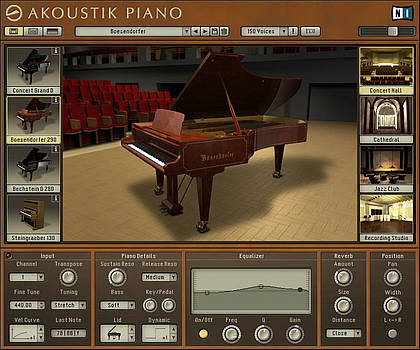 Features:
• Three famous grand pianos and one upright piano
• Exceptionally high sound quality including complete sustain and release phase
• Extremely intuitive and clearly structured user interface
• Integrated convolution module delivers controllable acoustics for four distinctive rooms: studio, jazz club, concert hall and cathedral
• Sophisticated and authentic emulation of the soft, sustenuto and sustain pedals
• Layer Morphing Technology ensures a consistent timbre and seamless velocity gradient
• Highly advanced audio engine including Direct from Disk (DfD) functionality
• Adjustable string resonance and mechanical noises of pedals and keys
• Integrated metronome, MIDI file player and recorder, export to WAV, flexible 3-band EQ and various tunings
• Keyboard dynamic range and velocity curve allows response to be adjusted to different master keyboards
The 1.1.1 update for Windows and Mac is now available as a free download for all registered users of Akoustik Piano on the NI website. For installation on a Intel-based Macintosh computer, a Universal Binary license code can be purchased for $29 / €25 in the NI Online Shop. Customers who first registered Akoustik Piano after September 12th, 2006, are eligible for a free Universal Binary license code. More information on the Native Instruments Akoustik Piano Update.