discoDSP Updates Vertigo To Version 2.5
discoDSP has updated Vertigo to version 2.5. Vertigo is an additive synthesizer, able to import WAV and bitmap files into two morphable layers, each with up to 256 oscillators.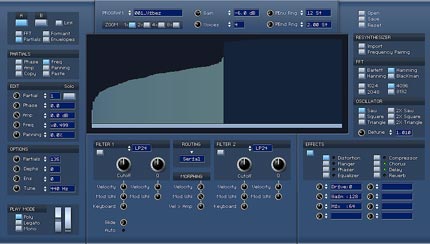 Enhancements:
• Full additive engine rewrite and optimization with up to 100% speed ups
• Importing with A-B Link button enabled will be applied to both layers
• Open/Save programs will always point to Vertigo Data folder
• Reset button now asks for confirmation
• Revised PDF manual
discoDSP's Vertigo 2.5 update costs $19 / €15 for owners of versions 1.x and 2.0. More information on discoDSP Vertigo 2.5.