Evel Knievel Sues Evel Kanyevel
Evel Knievel has sued Kanye West for his portrayal of "Evel Kanyevel" in the "Touch the Sky" music video in which the rapper takes on the persona of a daredevil and tries to jump a rocket-powered motorcycle over a canyon.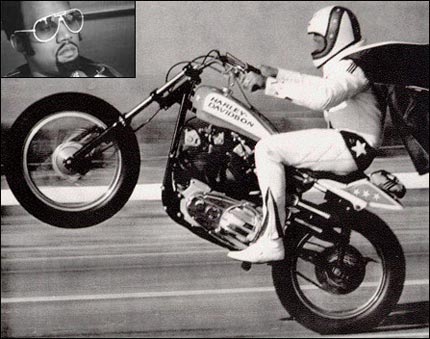 In the video for "Touch the Sky," released earlier this year, West dons the familiar Knievel star-studded jumpsuit and jumps a canyon in a vehicle "visually indistinguishable" from the one used by Knievel in his failed attempt to jump the Snake River Canyon in Idaho in 1974, the lawsuit said.
Knievel, whose real name is Robert Craig Knievel, filed a lawsuit in federal court in Tampa on Monday claiming infringement on his trademark name and likeness. He also claims the "vulgar and offensive" images depicted in the video damage his reputation. "That video that Kanye West put out is the most worthless piece of crap I've ever seen in my life, and he uses my image to catapult himself on the public," the 68-year-old daredevil stated. Go Evel Go!!
The video, which features Pamela Anderson as West's girlfriend, contains "vulgar and offensive sexual images, language and conduct involving `Evel Kanyevel' and women apparently trying to gain his sexual interest," according to the lawsuit. "The guy just went too far using me to promote his filth to the world," said Knievel, who lives in Clearwater and has been in poor health in recent years. "I'm not in any way that kind of a person."
A spokesman for West said the 28-year-old rapper no comment. The lawsuit seeks damages and to halt distribution of the video. The lawsuit also names Roc-A-Fella Records, video director Chris Milk and AOL for distributing it.
Knievel failed spectacularly in the 1974 jump. He was secured inside the cockpit and the Sky-Cycle was fired up. But his parachute opened just as he cleared the ramp. After soaring about 1,000 feet, he wound up landing about 20 feet from the river on the rocky south bank. He sustained only scrapes and bruises.
In the video, West's vehicle crashes to the bottom of the canyon in flames.