Algoriddim Updates Djay To Version 1.2
Algoriddim, a concern from Germany, has updated Djay to version 1.2 after complaints of performance and stability arose. Algoriddim claims this update contains major usability improvements and a bump in performance. Djay runs natively on both Intel and PowerPC processors and supports all common file formats, such as mp3, aiff, wav, aac, caf. With djay you can control and mix your whole digital music collection with two virtual, interactive turntables and both record and transmit the audio in real-time over the Bonjour network to other connected djays.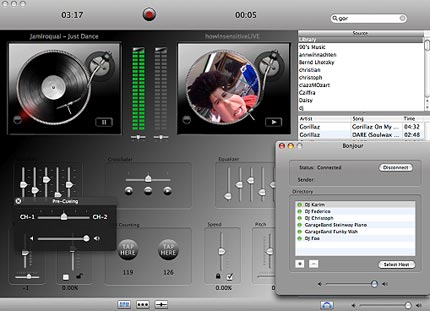 Features:
• Real-time audio mix transmission over Bonjour network
• Real-time audio mix recording
• iTunes Integration
• Automatic artwork image loading on both turntables
• customizable vinyl
• Forward spinning
• Time-Stretching
• Pitch-Shifting with amazing blend effect
• 5 band Equalizer
• Audio Unit Effects Support
• Pre-Cueing (requires multichannel sound card)
• Crossfade automation
• Manual Beat Counting
• Magnetic tempo slider for precise beat matching
• Cue points for beat-juggling
• Full control with keyboard shortcuts
• GarageBand instruments integration via network
• AppleScriptability for mixing automation
Enhancements:
• 8 new keyboard shortcuts
• Resizeable iTunes library (pre-cueing, reset all, crossfade switch and more)
• Improved file and artwork loading
• More preferences
Algoriddim's Djay is free. Minimum requirements: Mac OS X Tiger (10.4), PowerPC G4 800 MHz or Intel based Mac, 512 MB RAM. More information on Algoriddim Djay 1.2.