Eos Announces iPod Wireless Speaker System
Eos has announced a new iPod Wireless Speaker System. Using WiFi, the Eos system connects up to four remote stereo speakers from an iPod dock/base station. Eos claims that each satellite speaker has a range of 150 feet and will provide interference-free CD sound quality (48Khz).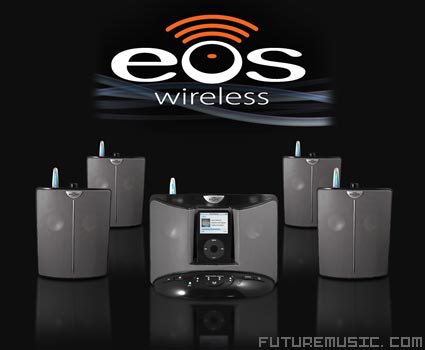 Eos states that its system is the world's first digital wireless "whole home audio" speaker system, or a Sonos for your iPod. The system contains an iPod docking base station – transmitter that has two stereo drivers and a ported sub-woofer and SRS Wow sound enhancement technology. The attributes of the SRS WOW signal are broadcast to all the wireless stereo remote speakers linked to the base station/transmitter.
The Eos remote wireless speakers also have two stereo drivers and a ported subwoofer. The wireless remote speaker have a removable, integrated power supply that allows the speaker to mount directly on a wall without mounting brackets or other support. By removing the power supply from its cavity on the rear of the cabinet, the stereo remote speaker can sit independently on a counter top or bookshelf.
The Eos system will be available at retail in March 2007. The core system that includes a transmitter/docking station with one wireless remote speaker will retail for $299. Additional Eos wireless speaker remotes are available for $129 each. Eos also plans to have a weatherproof wireless outdoor amplifier and a stand-alone transmitter/receiver bundle as options. More information about the Eos iPod Wireless Speaker System.