Carvin Introduces LS Loudspeaker Series
Carvin has introduced its LS Series of loudspeakers. Designed for musicians and mobile DJs alike, the LS Series consists of eight models that feature 16-gauge, perforated-steel grilles; recessed steel handles; high-order/low-loss crossovers; Neutrik Speakon and 1/4-inch connectors; multi-layered, cross-laminated, plywood construction and Duratuff coverings.
The LS Series has three 2-way systems (the LS1002, LS1202 and LS1502), three 3-way systems (the LS1503, LS1523 and LS2153), and two sub-bass systems (the LS1801 and LS1802). With the exception of the LS1002, all LS Series loudspeakers are bi-ampable.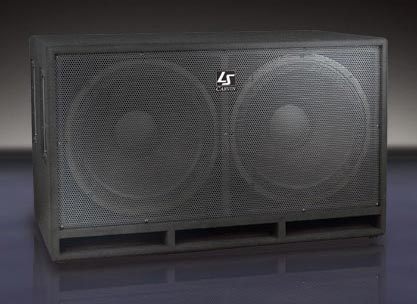 LS1802: The LS1802 is a very high output, dedicated subwoofer system used for low frequency reproduction wherever additional LF coverage is needed. The LS1802 is well suited to supplement main sound reinforcement systems, drum or side fills, or installed in live music venues, clubs, or houses of worship. The LS1802 features dual high efficiency, high capacity 18" low frequency drivers for maximum low frequency extension.
More information on the Carvin LS Series Loudspeakers.