Blue Cat Audio Releases Widening Meter Pro Plug-In
Blue Cat Audio has unveiled the Widening Meter Pro, a DirectX and VST plug-in for Windows that measures the RMS and Peak level of the mid and side channels. It's a unique tool based on the same principles as the Peak Meter Pro plug-in. Widening Meter Pro allows you to monitor the Peak and RMS envelope of the mid and side parts of the audio signal and can also be used to control other effects with this information.
Highlights:
• Monitor the mid and side envelopes evolution over time on a graph.
• Record the output and transformed output envelopes as automation curves and either assign them to other parameters of other effects or use them as reference information about your audio signal.
• Control other effects parameters in real time with these envelopes, thanks to the Widening Meter MIDI Output capability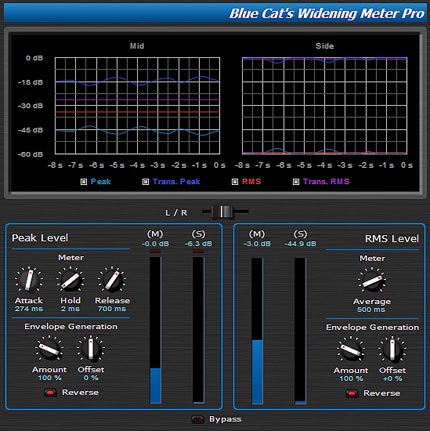 Features:
• Digital Peak & RMS mid/side Vu-Meter.
• Choose the virtual center position for the mid channel
• Control in real time any MIDI-controllable plug-in or external MIDI device with the RMS or peak envelope of the mid and side channels of the audio signal.
• Record the output parameters (peak, RMS value, transformed envelopes, clip etc.) as automation curves.
• Manage the output envelope shape: record reversed envelope, change amount of signal, and offset the generated envelope.
• Advanced signal monitoring with envelopes real time display.
• Easy 'stereoness' and phase cancellation measurement.
• Skinnable user interface.
This new product can be purchased alone or together with Digital Peak Meter Pro in the new Analysis Bundle.
Blue Cat's Widening Meter Pro is now available at special introductory pricing: $39.80 / €33.15. Blue Cat's Analysis Pack (Digital Peak Meter Pro + Widening Meter Pro): $59.16 / €49.30. More information on Blue Cat Audio Widening Meter Pro.