Sima Releases Hitch USB iPod Sharing Device
Sima has finally released its Hitch sharing device which allows users to connect their iPods, or other digital music players, together and transfer files without a computer.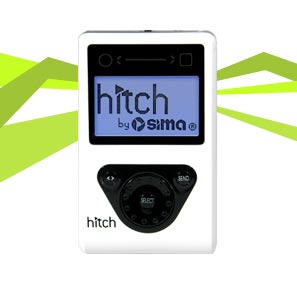 Hitch can connect USB devices such as digital cameras, digital audio/video players, USB flash drives, etc. and transfer music, video, photos, and documents between the two. Hitch is compatible with many brands of digital devices, such as Apple, Creative, iRiver, Samsung, Sony, Canon, Nikon, Casio, Olympus, Panasonic, Philips – virtually any device with a USB connection.
Sima claims that the Hitch can transfer a digital photo in under 3 seconds, a song in 5 seconds, and an entire album can be sent in 75 seconds. In addition, a two-hour video file can be sent in 15 minutes.
Hitch says its compliant with all Digital Rights Management (DRM) copy-protection, but that's reportedly suspect.
The Sima Hitch costs $99. More information on the Sima Hitch.