Incipio Releases IncipioBud – USB Adapter For Apple iPod Shuffle 2.0
Well it didn't take long for this obvious iPod Shuffle 2.0 accessory to hit the shelves. Incipio, a concern from California, is the first company to come out with a USB adapter for the iPod Shuffle 2.0 so you don't have to carry the mini dock around with you. The lack of a USB connection was a "Jeer" in our iPod Shuffle review, so this product will definitely appeal to Shuffle owners who want the ability to charge up on the go.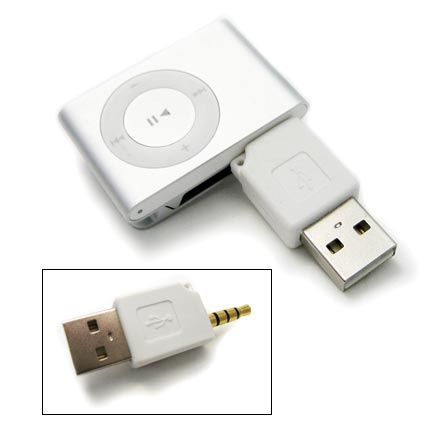 The IncipioBud allows you to easily connect a iPod Shuffle to any USB port without having to use the aforementioned iPod Shuffle Dock. Supporting full speed USB transfer rates, you will be amazed at how quickly it handles music transfer with iTunes and charging needs. The IncipioBud is the perfect travel companion, taking up virtually no space in a bag or pocket. No need to haul around the Dock and cables that came with your iPod Shuffle, just pack the IncipioBud and a user all set. The IncipioBud also comes with a convenient lanyard loop on the side so you can attach it to backpack or laptop case. This tiny adapter weighs in at only 5.6 grams and measures a mere 47mm X 16mm!
The best thing about the IncipioBud is that Incipio doesn't take you to the cleaners like other accessory manufacturers: it's only $6 bucks! More information on the IncipioBud Shuffle USB adapter.