SpeakerCraft Displays New TIME Five Motorized Ceiling Speakers
SpeakerCraft has unveiled a new motorized ceiling mounted speaker dubbed the TIME Five. Unique in concept and revolutionary in design, the Theater In Motion Experience is the most dramatic advancement in custom ceiling audio since the company released their original ceiling speaker over twenty years ago.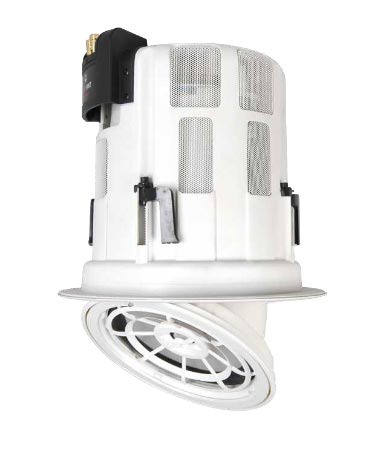 Mounted flush in the ceiling these speakers automatically drop down to a 15º , 30º or 45˚ angle and then rotate to aim toward any position in the room. Utilizing a remote control and multiple presets , the system can be configured to a variety of seating positions and configurations. This makes the TIME speaker an In-Ceiling and In-Room loudspeaker in the same package. Why choose between the two when you can have both?
Specs:
• Motorized in-ceiling speaker descends from 15º to 45º and Rotates 320º
• 8″ Kevlar Cone Woofer
• 1″ Aluminum/Magnesium Dome Tweeter
• Timbre-Matched to AIM Five
• Fully Programmable
• Efficiency: 91dB 1W/1m
• Power Recommendations: 5 – 100 watts (undistorted)
• Impedance: 8/6/4 ohms depending on switch settings
• Frequency Response: 33Hz – 20kHz ± 2dB
• Diameter x Depth: 11 5/8″ x 11″ (295.275mm x 279.4mm)
• Cut-out Diameter: 9 5/8″ (244.475mm)
The SpeakerCraft website really sucks in that they over-Flashed the design, but there is a cool animation showing how the speaker descends from the ceiling and rotates. More information on the SpeakerCraft TIME Five Ceiling Speakers.