VirSyn Software Synthesizer Releases Cantor 2
VirSyn Software Synthesizer has released Cantor, a new realtime vocal synthesis technology dubbed VOSE (Vocal Simulation Engine). Cantor allows the user to enter lyrics in plain English and then have the software "sing" the lyrics instantly just by playing the melody on a MIDI Keyboard. You can then add expression with realtime parameters controlling vibrato rate and depth or changing the character of the singing voice from female to male. The range of voice characters is virtually unlimited: it goes from robotic voice characters to highly expressive and nearly realistic sounding voices.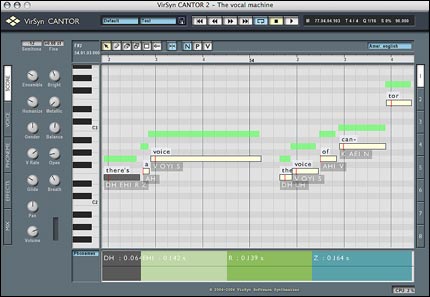 The completely reworked score editor makes it easy and fast to edit the most important sound parameters which give you access to the finest detail of spelling and expressivity of the vocal line. All those editings can be done in realtime: What you hear is what you get.
The new MIDI import feature makes it possible to use pitchbend and expression information. This opens up entirely new applications: if you take for example an analyzing program like Melodyne from Celemony you can take a real vocal part and analyze it. After importing you can use this vocal line and combine it with a new voice made by Cantor.
More than 20 ready to use voices in German and American pronunciation are part of Cantor 2. Extensive possibilities for phoneme and voice editing makes it easy to create your own individual voice characters – even creating new languages is possilble.
Features:
• Realtime vocal synthesizer.
• 8 independent vocal lines (parts).
• English pronouncing dictionary with 120000 words
• German pronouncing dictionary with 100000 words
• VOSE vocal synthesis engine – no samples used.
• Built in sequencer with matrix editor.
• Voice editor for simulating the vocal cord.
• Phoneme editor for simulating the vocal tract.
• Individual modulations for each note.
• MIDI Import function for notes, lyrics, expression and pitch bend data.
• Manual/automatic operation with VST/AudioUnit/RTAS Host.
• Built in mixer for layer and split key functionality.
Cantor 2 is available as a stand alone program and as host plugin (VST2.4, RTAS, AudioUnit) for the platforms Windows XP and Mac OS X. The Mac version is delivered as Universal Binary for Intel-based Mac compatibility. More information on VirSyn Software Synthesizer Cantor 2.