Apple & Nike Plan Nike+iPod BlueTooth Amp+ Bracelet For $80
According to a recent leak, Apple Computer and Nike plan to introduce a new bluetooth wristband device dubbed Amp+ that will allow runners to browse the songs on their iPod and check running times without having to negotiate the iPod's Click-Wheel.
According to another report in Men'sHealth (see advertisement below), the bracelet will sync up with the existing Nike+iPod running system, displaying information on an illuminated LED display and will include a heart rate monitor.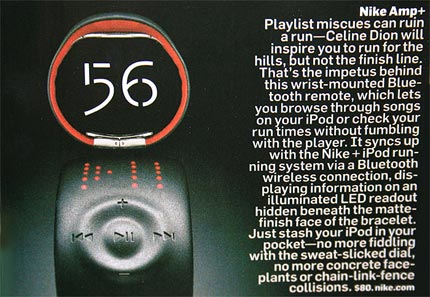 Since announcing their partnership, Apple and Nike have sold over 450,000 of the Nike+iPod sport kits. The $30 system includes a wireless Bluetooth mode that inserts under the heel of a Nike+ compatible running shoe and a transceiver that plugs into an iPod nano. The Nike+iPod kit gathers data such as distance, calories burned, time and pace. The data is then stored on the iPod and easily uploaded through iTunes to nikeplus.com, a personal service site where runners can track their own progress and challenge other runners.
In recent months, Nike has been working on new functionality for nikeplus.com, such as adding a new 'route finder' to the web software that will let runners easily map and share their favorite running routes. The shoemaker has also been working to expand its Nike+ enabled footwear line, for which there are now over a dozen different models.