JVC Releases HA-NC80 – Dual-Mode Noise Cancelling Headphones
JVC has released the dual-mode HA-NC80 noise canceling headphones which the company claims can deliver up to 75 percent noise reduction. What makes this model unique is that JVC developed dual-mode noise canceling circuitry so the user can choose the most effective noise cancelling mode based on the environment. In addition, to help block ambient noise, the headphones feature fully padded, closed earpieces.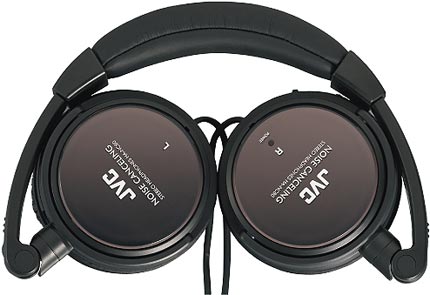 The HA-NC80 offers both "wide" and "low" noise cancellation modes. The "wide" mode targets a wider frequency range than the "low" mode, and cancels the type of noise typically found in a commercial jet cabin. The "low" mode cancels a slightly narrower and lower frequency range, one associated with the noise generated by trains and buses. In addition, the headphones can be used with noise cancellation turned off.
The HA-NC80 headphones are ideally suited for travel. They fold flat so that they're easy to carry or pack, and they come with a carrying pouch and a dual-plug adapter to they can be plugged into a commercial airplane's entertainment system. In addition, the padded earpieces and headband ensure that they'll remain comfortable throughout a long flight. The HA-NC80 uses a single AAA battery, has a 4.9-foot cord and weighs less than six ounces.
The JVC HA-NC80 will be available in December for $59.95. More information on the JVC HA-NC80.