Weekend Fun: La Escopetarra – Gun Guitar
A Guitar Only Ted Nugent Could Love

Created by Cesar Lopez and Luis Alberto Paredes, these Gun Guitars have been dubbed La Escopetarra. Lopez got the inspiration for the invention while standing outside a bombed out Bogotá club and noticing the similarities between his guitar and a soldier's rifle who was standing guard.

After partnering up with musical instrument craftsman, Luis Alberto Paredes, Lopez has been producing the instruments ever since. Initially made out of Winchester rifles, they are now made mostly from the plentiful AK-47.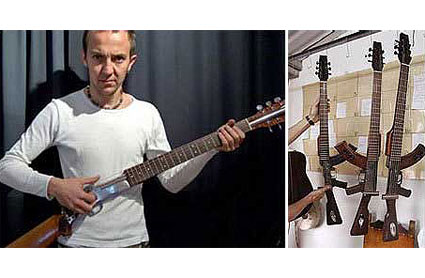 Lopez conceeds that the acoustics of these creations are not the best, but for sheer visceral presentation, noting makes an impression like an Escopetarra. So if you've ever got stricken with the sudden desire to go hunting while in middle of a rippin' guitar solo, then have we got a Guitar for you…
More information en la Escopetarra.