Propellerhead Software Announces Producers Conference In San Francisco
Propellerheads announce Producers Conference at Recombinant Labs, San Francisco on Saturday, November 18th. 9:00 a.m. to 4:30 p.m. The Producers Conference is a full day of creative clinics and interactive classes for computer musicians. Propellerheads puts on this branding event to give digital DJs and musicians the inside track on advanced production techniques, song writing, mixing methods and more.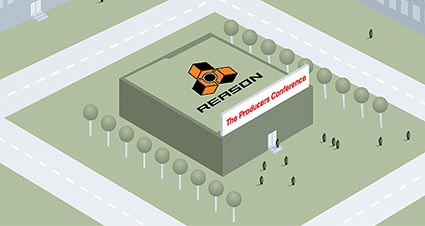 Propellerhead Software have developed the conference to further the company's mission (…and sell more of their software), to bring artists closer to their musical ambitions and to bring artists and producers together who wish to get the most out of their productions using Reason.
Featuring N.W.A founding member, Arabian Prince and IDM sound design wizard and Propellerhead Reason guru, James Bernard, both artists will lead clinics on their creative approach using their tools of choice within Reason.
The all day event will also feature clinics on maximizing the NN-XT sampler, the Combinator, as well as creative workflow for producing patches, sounds, and refills. The Conference will also include a final session where selected tracks submitted by attendees will go through a class review for tips, tricks, enhancements, and suggestions.
Seminars will be conducted by:
• Arabian Prince (Founding member of N.W.A. | Professor X)
• James Bernard (Propellerheads | Influx | Rising High) Learn how to create amazing patches and refill solutions and get the newly released Weird & Wonderful Refill patch/combinator collection.
Reason Clinic Presenters:
• Kurt Kurasaki (Peff.com | Powertools for Reason) Understand and maximize the use of the powerful Reason 3.0 Combinator. Unleash its potential as a powertool and become a super user.
• Erik Hawkins (Berkleemusic | Studio in a Box) NNXT to the max. Erik, writer for Remix, Electronic Musician, and many other mags, will present effective set up and usage of the NN-XT sampler for maximum creative output.
• Hayden Bursk (Propellerheads | haydenmag.com) Producer track evaluation session, led by Propellerhead Hayden Bursk. 5 tracks will be critiqued for maximum creative output.
The Propellerheads Producers Conference is Free for registered users of Reason, or $99 per person. More information on the Propellerhead Producers Conference In San Francisco.