ART Teknika Updates Console To Version 1.6
ART Teknika has released version 1.6 of console. console is a plug-in host that allows you to freely combine plug-ins of different formats such as VST2.0 and DirectX (DX) audio. Its modular system and intuitive user interface allows for flexible routing. This release incorporates improvements based on user feedback, and offers refined usability.The GUI has been completely revised, and the support site now offers much more information.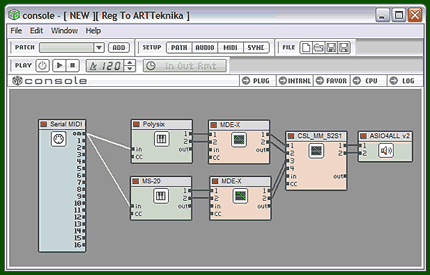 New Features:
• Automatic loading of the default project file. At startup, console will automatically load the "default.csp" project file, which is saved in the same folder as the console1.EXE application file.
• Retaining of switch settings for the audio engine. When console is launched, the last used settings will be restored. Note: that the settings in default.csp will be prioritized.
• Displaying of VST plug-in delays. Note: console does not provide delay compensation. You will need to use another plug-in with delay compensation capability.
Fixes and Changes:
• Improved handling of MIDI clock sync. The setup procedure has also been changed.
• Improved support for VSTTimeInfo. Improvements have been made to better support plug-ins that require syncing (of tempo, playback position, etc.) with the host.
• Native fxb/fxp format support for VST plug-in presets. Note: Preset files from previous versions of console are no longer supported. To use your existing presets, export them in fxb/fxp format.
• Changed internal process for loading VST plug-ins. console can now use some plug-ins that were previously incompatible.
• Updated GUI and skins.
• Improved access to MIDI ports in Plug-in Mode.
• Plug-in GUIs now opened at the center of the screen.
• Audio engine no longer stopped when opening/closing setup windows during playback. Playback will be paused, but the power button will remain ON.
• Fixed bugs in changing VST plug-in presets via MIDI CC.
• Increased number of presets for included plug-ins to 128.
More information on console 1.6.